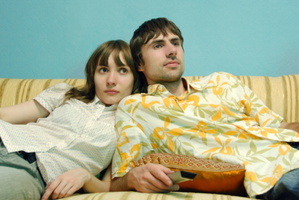 There are so many things that can damage your relationship over time: his friends; his personality; his weird trousers that show too much ankle. And now there's one more! Television.
It's not what you think: the betrayal that occurs when you're watching a series together but then in your temporary absence he goes ahead with it, WITHOUT YOU. Although that too causes serious disharmony - I've been there, and my heart was heavy.
No, television can erode your couple cocoon in another, more serious way: through the untruths about relationships it beams into your face every night. How do we know this? Because research has found people who "watch more romantically themed programming" and believe TV relationships are realistic were missing vital circuitry in their brains.
Kidding - they were just miserable in their relationships, and more likely to cheat.
In a study published by Scientific American Mind recently, researchers from Albion College in Michigan analysed 392 married people, including their viewing habits, their beliefs about the portrayal of TV 'relationships', and - importantly - the health of their marriages. Unsurprisingly, people who felt TV couplings were more or less spot on had more complaints about their spouse. They also didn't feel sexually satisfied, were less committed to the marriage, and worried their relationship wasn't up to scratch when it came to how a relationship should be.
To be fair, not many participants actually felt TV depictions of romantic love were 100 per cent accurate. Rather there were sliding scales of belief, and as the belief scale went up, the level of commitment to a partner went down. Which suggests fictional, screen-based relationships affect our perceptions and expectations more than we realise - even if it's just a little bit. We can watch the great sex on Game of Thrones for instance, and know it's kind of ridiculous, but who knows what niggles are forming in our subconscious?
Not to bang on about Girls again, but it's got to be one of the only shows that gets close to depicting sex in all its awkward glory. Not because sex is always dysfunctional - if television showed romance and sex as consistently disastrous that would skew our brains the wrong way, too. But sometimes it doesn't run smoothly, and we've all been there. So to finally see that in a media known for dishing up the aspirational over the relatable is, somewhat unfortunately, very novel.
Of course, TV could never really enact relationships as they happen in real life. Half-hour slots rely on condensed narrative, for example, so romantic spats get resolved in 15 minutes rather than dragging on morosely for days. Also, people would wander off in search of a biscuit and forget to come back if there wasn't a sped-up carousel of dizzying love moments designed to keep their eyes on the screen.
Otherwise it's literally a live-cam of a couple talking for way longer than is necessary about Auckland house prices, and if he reckons they've eaten salmon too many times that week or whether they should just have it again. Oh, did you talk to your mum today? She was trying to get hold of you. CRAP, WE'VE RUN OUT OF BROCCOLI.
Which wasn't my life, last night. I swear it.
Follow Rebecca Kamm on Twitter.