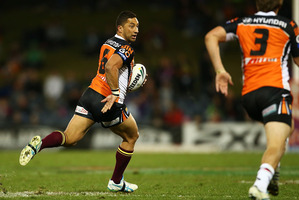 Maybe Benji Marshall will benefit from a change of codes and, despite being a Kiwi selector, I'm not about to make a plea that he remains in league.
The fact is Marshall has been out of sorts this season and looks to have put on a bit of weight because of a foot injury. It looks like he has trimmed back and getting back to some form, which should excite the Tigers and Kiwis coach Steve Kearney looking ahead to the World Cup.
As with teammate Adam Blair, he's perked up in the past few weeks, which can be linked to how the team is performing.
But players need a change sometimes and he appears to be dead-set against playing for another NRL club. And starting off in New Zealand rugby's provincial competition would be the ideal way to go. Quite a few of us used to wonder during our careers how we would perform in the other code and Marshall is in the position where he can actually find out. It might do him wonders.
It also has to be said that the way Marshall has played over the years, a method that took the Wests Tigers to a title, of course, is no longer the most effective style in the game.
Marshall played east to west, drifting across the field looking for opportunities. The game has become much more direct and at 28, he needs to adjust. This change of emphasis is why the Kiwis and Manly five-eighth Kieran Foran has become such a leading figure in league.
On a similar note, Sonny Bill Williams has been a sensation at five-eighth for the Roosters and I don't see any reason why he can't perform a similar role for the Kiwis if necessary. He really is an amazing footballer and the more you get the ball in his hands the better. If things aren't going well in a test, there's no reason why he can't shift there if Kearney feels it is the right move.
Williams' career is such a moveable feast that I'm not sure if we can write him in to our World Cup squad yet and I think the time is approaching when Kearney or manager Tony Iro will talk to him to get a handle on his immediate ambitions.