When the cat's away ... she had better be prepared to return to sandwich boards and new hair colours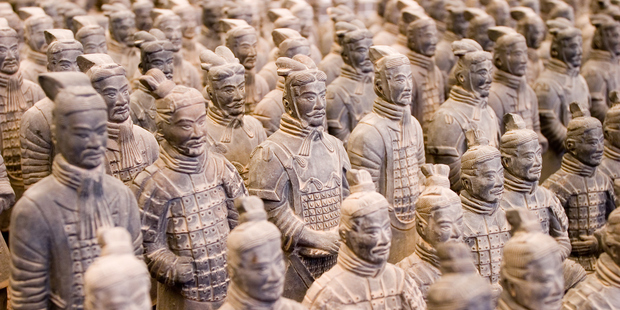 Supportive wife went to China last week and all hell broke loose. I was there for work as one of the publications I write for suggested I might like to take the trip and write some stories for them.
"Would I ever!" I said, anxious to leave the supportive wife challenge for a few days in exchange for hotel sheets and dumplings.
When I was a child in the 60s, wives rarely went away in my neighbourhood. It was the men doing all the travel Mad Men-style off to Sydney and London for Very Important Meetings while the wives stayed at home and pined for that bottle of perfume or gemstone pendant their husband remembered to buy for them after gathering his duty free booze.
Should a wife need to leave the family home for longer than 12 hours to attend a family funeral or perhaps help out a sister with a new baby, freezers were filled with casseroles, pies and other easy to heat options and an army of female friends descended on the home to help out the husband who was incapable of doing anything except light a pipe and look for his slippers.
As some of you have worked out, I am married to a very capable man. We have always had a very equal relationship when it comes to the three C's: cleaning, cooking and childcare. In fact some observers, mainly our children and dinner guests, would say he has always done the lion's share. Since putting on my supportive wife apron he has been relieved of many of these duties in order to concentrate on his publishing business.
"So much for supportive wife," sniggered our 15-year-old daughter on hearing that I was headed for China. "That didn't last long."
"Off you go," said my husband, eagerly getting out his favourite recipe book.
Then I found myself standing east of Xi'an staring down at around 6000 warriors made out of terracotta and wondering if someone had thought about perhaps dusting them in the past 2000 years.
"You there? Need some help," came the text from 11,000km away.
It took 30 minutes to sort out via text but it was my pleasure. Really. Had I been intending to have any sort of emotional or spiritual reaction to something so amazing as thousands of full sized warriors and horses made out of clay in a funeral pit to protect an emperor in the afterlife, it wasn't going to happen now. I nearly cried at Stonehenge, which let's face it is a bunch of rocks, so I had great expectations for the warriors but not while I was stuck on the end of an iPhone.
The next day my husband struggled to get his work done while taking our daughter to the dentist, sorting the GST for both our companies, minding a grand-child, walking the dog, dealing with car insurance and attending a meeting at school about our daughter going on a trip to Nasa next year. All jobs I would have been doing while he wrote his next book.
"Have given up on today's word target," said the stressed-out text.
"Oh dear, sounds like supportive wife needs to come home," I replied, before tripping off to see some pandas.
While I was exploring cave homes in the hills and watching people sweep motorways from the back of a jeep, my husband turned into a "concerned resident of Grey Lynn".
Having been unmoved when our local post office became a cafe and delighted about the Unitary Plan, news imparted to him by the local baker - confirmed by the hairdresser and butcher - that someone was planning to open another liquor outlet in our shops sent his warrior instincts sky high.
"If I hadn't had to come out to pick you up from the airport I was going to relieve Suella of her sandwich board on the street and get a few more people to sign objections," he said.
Sandwich board? Objections? I turned to look at my daughter in the back seat with my WTF expression. She had dyed her hair pink in my absence and simply shrugged her shoulders.
If I needed any evidence to show that my self-imposed challenge of being a supportive wife for a year was working, I had it in that ride home from the airport. So I've rolled up my sleeves, wrenched the dish brush out of my husband's hands and am back into it.