Over coffee or tea, "death cafes" offer a chance to talk openly about the big event that's coming to us all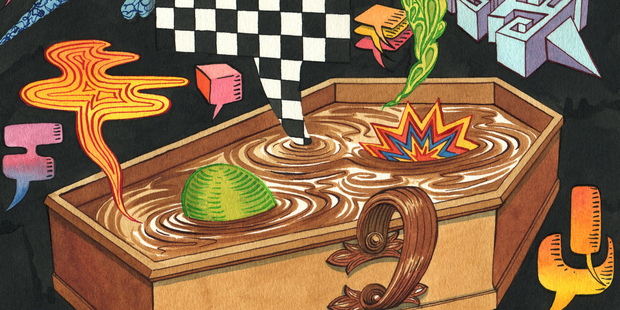 An eminent computational scientist wrote in the Guardian this week that we, man and woman-kind, were "f***ed".
Apologies for the language, and the downer, but that is what Stephen Emmott wrote, decrying the "developed" world's tendency to use each and every of our natural resources to the point of extinction, and the "developing" world's tendency to grow populations beyond what its meagre reserves can handle. The planet will survive, Wilson said, but humankind is doomed.
This may be hopelessly glum to some, and junk science to others. Climate change deniers exist, but so do Kevin Rudd fans and those who believe Elvis still walks among us. Many of us will deny the overwhelming evidence that something very frightening - whether man-made or naturally occurring - is staring us in the face, until we are personally faced with mutant lepers thumping us over the head with severed limbs in order to reach our fresh water supplies.
In the face of this existential crisis of massive proportions, not to mention an ageing, cash-strapped population in many parts of the world, it seems entirely fitting that more and more people are trying to take control of the circumstances of their own deaths.
Only a small part of this movement involves the topic of euthanasia. For the vast majority, the focus is on trying to understand what happens when you die - the physical reality of death - but also ways in which one can achieve as peaceful a death as possible in the circumstances.
In the past year "death cafes" have sprung up in the US, Britain, Australia, Latin America and across Europe. In most places these are simply "salons" where, over coffee, tea and dessert, people who have never had a chance to explore their thoughts and feelings about this most relevant of topics get an opportunity to do just that. According to MSN News, participants ponder "the sweet hereafter together in a judgment-free zone": do-not-resuscitate orders and the legal implications of wills are among the subjects broached. The existence or otherwise of God is a topic that's generally avoided.
One of the aims of these forums is to try to educate people that there are more satisfactory ways of dying than ending up infirm and desperate in hospital, begging for every possible life-saving procedure when all it will do is ensure your last remaining moments on earth are as miserable as possible. And this is a reality for many people - especially those who have come to expect supernatural results from modern medicine.
Not that the alternative - dying at home, with pain relief - is always pleasant. Having witnessed this myself, I was shocked, perhaps stupidly, at how the dying person doesn't depart this earth in the peaceful and wise way depicted in so many Hollywood movies.
And therein lies the beauty of the "death cafe". The subject is not much addressed with any consistency or honesty, so to have a place where it is canvassed openly has to be a positive development. We are all looking down the barrel at certain extinction, climate change or no, and there is nothing to fear in the conversation at least. After all, to paraphrase someone else, talking about sex won't make you pregnant, and talking about death won't make you dead.