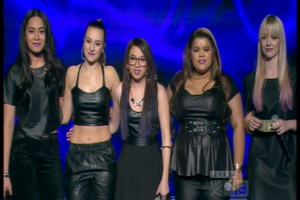 All the zippery and frippery and over-staged karaokery in the world can't disguise the feeling that The X Factor NZ appears to have lost its own x-factor or perhaps failed to ever quite find it.
Now down to the last six performers standing, last night's episode (TV3, 7pm) in the endless singing contest series was a lame, tame effort - Glee minus the fun.
A fairly profound lack of head-turning talent doesn't help, of course. Two good-looking but thinly gifted singing groups (Moorhouse, Gap 5), a pair of unremarkable girl singers (Jackie Thomas, Cassie Henderson), a boy with a big voice but little character (Whenua Patuwai) and poor lost singer/songwriter (Benny Tipene) failed to raise any sparks.
It was up to the judges for that sort of thing, but we might all be getting a bit tired of their schtick - mad-eyed Daniel Bedingfield poncing about in a new ugly outfit, Stan Walker wearing glasses for added IQ (forget it). And English ex-singer Melanie Blatt doing what she does best, dispensing that kind of casual cruelty these shows demand.
Of course, she's The X Factor judge who isn't going to have to sing for her supper - or, it must be said, for her credibility on a show that puts everyone through the performing hoops except, apparently, her.
It's a pity those hoops - singing bland covers of bland pop songs - squash any originality out of the contestants. It's a formula that will probably deal dismissal to Benny Tipene, the closest thing to a real deal the show has. My bet for a winner after last night's show would be on Moorhouse, the group host Dominic Bowden described as "four hot dogs".
This is the sort of show that might indeed make stars of hotdogs.