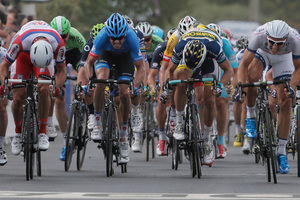 An America's Cup courtroom saga, consternation about the role of 'biff' in State of Origin, Northern Hemisphere whining about a Southern Hemisphere rugby referee - the past few weeks in the sporting world have been a little hackneyed.
No doubt in the next week or so there will be a Tour de France drugs scandal and, obviously, there will be an idiot from some major code sat uncomfortably in front of the media running through a list of the people he's let down by having a skinfull and making a total goose of himself.
Sport needs drama - but not this kind; not this almost cyclical, choreographed routine where, more for form's sake than anything else, players, administrators and media fall into a well-worn routine.
These issues play out with no sense of the dramatic - more a dull procession of predictable opinions from rent-a-gobs and blowhards, leading to unsatisfactory outcomes.
So here's some advice for the America's Cup - for free, unlike the blood-sucking lawyers at the centre of this non-drama who will be collecting yet more loot to haul back to their Transylvanian mansions or wherever they live.
Don't have any rules other than the boat can't have an engine, can't be bigger than a maximum size and teams can't spend more than a certain limit - a limit that would be relatively frugal.
That will keep the lawyers out of it. That would make it fascinating - a genuine test of design ingenuity and sailing expertise. At the moment, who doesn't think the America's Cup is determined by the depths of a team's pockets and their ability to manipulate the rules? If it's not about that then the legal stoush at the moment is a travesty for the regatta.
But of course it is about that and whatever small chance there was of the event hooking a new audience of non-sailors, they have blown it.
As for the State of Origin biff or non-biff fiasco - just let it drop. It is all part of this unfathomable code of mate versus mate which is entirely curious to those who tend to see their mates in this rather antiquated way of them being people we like rather than don't like.
Imagine the chaos if the league fraternity's philosophy was adopted across Australasia every Friday and Saturday night? There's chaos enough when mates encounter those who are not their mates - so frankly this notion that it's okay to punch your mate in the face because he's your mate is the most ridiculous one ever ... mate.
Yes, the compulsion of Origin is that blokes who are team-mates one week are asked to be rivals the next. We get that - but not the need for this to be treated any differently to any other NRL rivalry. Play the game and don't encourage, glorify, condemn or even mention biff, before, during or after. Simple.
It's pretty much the same principle for the rugby crew - unless the referee swallows his tongue or is having a severe allergic reaction, best to leave him be. The only other reasons for players, coaches or media to make mention of his performance are: if he obviously cheats - is seen taking money from one of the captains before the game. Or if he doesn't obviously cheat but makes such a howler that it is beyond reasonable doubt that he is a cheat.
If, however, a referee simply makes rulings that annoy Lord Brian O'Driscoll, then revert back to leaving him alone and not seeing his performance as the sole reason why your team may have struggled at the breakdown.
If and most likely when a Tour de France drugs scandal breaks, don't be horrified. Don't doubt the future of the event or the sport. We all know, or at least we should, that after promises from everyone involved to clean things up, they will all be back on the start line in 2014 having forgotten those promises.
Cycling's ethical and moral compass went haywire a long time ago, and yet the sport's popularity only grows. The hype of the Tour de France doesn't lessen and as the riders begin their journey today, they will be watched and analysed by more people than ever and no doubt chased, too, by ever greater numbers of eccentric Frenchmen in odd costumes.
So for our interest to be piqued, we need some proper dramas: a qualifier winning Wimbledon in the vein of Boris Becker; a try from the end of the earth to win Origin; a football side winning a major championship on a budget; someone, not on drugs, beating Valerie Adams; a coach who did actually see an incident of foul play and not have to wait to review it in video before casting judgement. Something anyway that doesn't feel tired or manufactured.