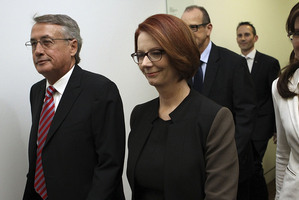 Quite what the Belarusian and Vietnamese delegations watching from the public gallery in the House of Representatives yesterday - not to mention Speaker Anna Burke's mum, who was also present - made of question time, Australian-style, can only be guessed at.
For nearly an hour, a big elephant lay sleeping there as Julia Gillard - a model of sang-froid under pressure - and her ministers fielded questions on climate change, schools and asylum-seekers. Then Tony Abbott stood up and roused the beast.
There was only one thing, he declared, with some justification, that the building's occupants were interested in that day, and that was "the conversations taking place in corridors ... [and] the plotting going on inside offices". In case you've just arrived in a spaceship, he was referring to moves to force yet another Labor leadership ballot.
Three years and a week after Gillard bundled Kevin Rudd out of office, and three months after what the Daily Telegraph called the "Rudd-less coup", the parliamentary Labor Party last night dumped its leader.
Australian politics - even by recent standards - began with the independents who helped Gillard stitch together a minority Government rocking the already shaky boat.
First out of the traps was Bob Katter, voicing support for a leadership change because "no one's driving the bus" - a sentiment that must have resonated with many Australians.
Tony Windsor and Rob Oakeshott then both announced they would be quitting at the election, with the ever-principled Windsor saying he would not support the "psychopath with a giant ego" - as the Labor MP Steve Gibbons called Rudd last year - should he become Prime Minister.
As Australians wondered who would be running a country of 22.3 million people and a A$1.5 trillion ($1.79 trillion) economy by breakfast today, Abbott delivered what amounted to a campaign speech, declaring that "the poison inside the [ALP] is paralysing Government" and "we can do so much better for you ... if we're given the chance".
As Anthony Albanese derided "the longest dummy spit in Australia's political history" - meaning Abbott's refusal to accept the 2010 election result, Gillard betrayed no trace of the emotions that must have been churning inside her. An hour or so later, she called the leadership ballot.
At 5.13pm local time, Rudd threw his blue tie in the ring, and just under three hours later the game of musical chairs was complete.