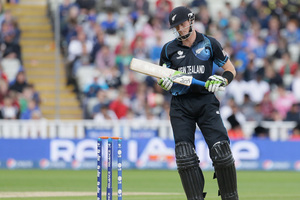 The Champions Trophy campaign promised so much but came to a limp end. If this was an indicator of our ODI team as they build towards the World Cup, it once again pointed the finger of doubt squarely at our batsmen.
We know Martin Guptill can be outstanding - he was against England - but we also know he can't get runs all the time. He had a disappointing Champions Trophy, but he could just as likely have an outstanding World Cup.
So you need the bloke at the other end to front every so often and, sadly, Luke Ronchi did not. If there is one thing Ronchi, and Hamish Rutherford for that matter, have shown is that selection for the Black Caps must be based around results at the provincial level in the form of the game a player is being selected for.
Kane Williamson is the goods, plain and simple. In Williamson we have a cricketer with an exceptional cricket brain and an understanding of batsmanship. He had a very good Champions Trophy and showcased his all-round ability.
Williamson is the platform which this ODI batting team must be built around from now on.
Ross Taylor is Ross Taylor. There is not much else to say, really. He did not have a good tournament but I sense he is getting over his post-captaincy issues and will be key come World Cup time.
Find another opener and the top order is looking good. This is where I feel the time has come to promote young Tom Latham. He has a quality all-round game of accumulation and power and has too much promise for him to be allowed to stagnate on the sidelines.
Brendon McCullum was a disappointment with the bat in England and once again reinforced to me that he is the catalyst of the team's overall performance. He is the player that adds the X-factor that gets them across the line. He's the player who gets the quick 80 to get them to 320 or the guy who gets them to the finish line when the run chase looks unlikely.
He did not do that and in my eyes that was one of the crucial missing links in the campaign.
Position six is vital in a one day innings and New Zealand had no six. He's the man who recovers an innings or accelerates the start the top order has given him. It is a difficult position.
We may have seen the back of James Franklin but who replaces him? If Ronchi is to be persevered with, then this could be his role. I know Latham could do this role too.
The answer could be to commit to Rutherford as an opener and hope he can make a go of it, leaving Ronchi, BJ Watling and Latham fighting for that spot. Corey Anderson could be an option here too but I like him at seven.