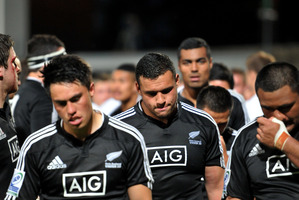 It's been a worthwhile series against the French but I still have a worry nagging away at me about the development of our players.
I don't mean about the development of those players the All Black panel has brought into the three tests. That went pretty well - and I'd give the All Blacks a 7 or 8 pass mark out of 10 all up. What impressed me most was the way they learned the lessons of the first test and came back so well in the second. They upped their skills and the French had no answer.
No, what I am really talking about was the way players were taken out of Super Rugby for the All Blacks' training camps and the wake-up call I believe was delivered to New Zealand rugby with the victory of England over New Zealand in the under-20s World Cup.
This is what I said last week: "You'd also have to say that the All Blacks have justified what I consider devaluing of Super Rugby by hauling people out for training camps.
I still don't like the idea but, when the All Blacks take players who have not performed well in Super Rugby and persuade them to play better on a bigger stage, you have to say that the All Blacks really are the only game in town."
And so they are. But I watched the England under-20s play really well against our guys and I thought it was a bit of a warning. They are strong, are competing physically and have developed ball skills. They are also playing smart.
You can see guys like Jack Clifford - the England under-20 captain - coming through a focused system of schools, academies and introduction to premiership rugby. They are doing a lot right, easing players into tough competitions.
Don't get me wrong - I cannot say we are doing anything wrong. Again, the All Black results against France are all the justification needed. For now.
The issue may arise if we continue to affect our Super Rugby and ITM Cup competitions by removing too many of our top players. I know the game has moved on and there are different ways of doing things these days. But I think it is really important we do not jeopardise Super Rugby and ITM Cup - particularly as we are seeing Northern Hemisphere teams catching up in terms of their smarts, raw muscle and physicality at under-20 level.
I hate to say "in my day" but in my day you learned from the older guys you played with at provincial level. We are blooding many new players at Super Rugby level - I think there's something like 100 new Super Rugby players this year - but what are they learning?
In my day (there it is again ...) it didn't matter whether Andy Haden was playing a test match on Saturday or a club game on Sunday - his attitude was the same. In Super Rugby, I want the best players - like Ma'a Nonu and Aaron Smith - not only to be available but fronting up and playing well at Super Rugby level.
I can't complain - not with the All Black results of late. But it's a slippery slope we are playing on.