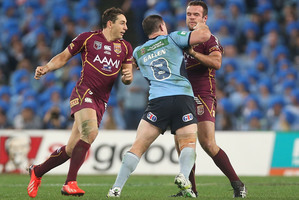 Australian Rugby League officials are taking a huge gamble this week as they attempt to legislate against foul play in the second State of Origin match at Suncorp Stadium on Wednesday night.
Spooked by a media backlash against two punches thrown by New South Wales captain Paul Gallen in Origin I (an incident which drew, by the way, remarkable restraint from the man on the end of the blows, Nate Myles) administrators have decreed that punches in Origin II will draw an automatic yellow card and 10 minutes in the sin bin.
The Aussie media response has been to plunder the files for every all-in brawl since the super series started and play them wall-to-wall.
If there was any doubt that a huge proportion of "the fans" love Origin for the extra licence and more elastic rules on what they can and can't get away with, then surely it has been dispelled in the weeks since Origin I.
Old-timers in the media have spoken of "biffo" being an integral part of the mate-against-mate, state-against-state attitude, and revelled in the pre-meditated violence in the game.
Not surprisingly, there's also been talk about the prospect of both sides being down to a handful of players as the punches mount and players disappear to the bin.
In any event, the Origin I blow-up should not have attracted such a knee jerk response - especially mid-series.
It will be interesting to see on Wednesday how much timidity and self-control is introduced into the way the traditional gladiatorial contest plays out.
That will mean tremendous extra pressure on the match officials. Sendings-off have been rare in Origin contests with the tacit understanding that what happens on the field will be dealt with on the field.
If restraint is to be the key to the match, it's hard to see Queensland losing and not going on to take their eighth series in a row. But heaven help the official who, in these circumstances, gets a call wrong - costing one team the game and the ARL turnstile revenue.