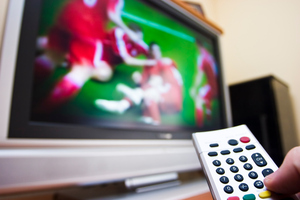 High interest in Coliseum's inroad into Sky's sports catalogue and fall in share price show public eager to choose and pay for what they see
Things are changing fast in the world of television. Two trends predominate, with viewers getting to choose more of both what they watch and how they want to watch it.
Ultimately, it is reasonable to envisage a scenario in which people will pay only to see each individual programme they select.
At the moment, we are some distance from this ideal. Television remains largely a passive experience that is dictated by programme schedules. Further, those who subscribe to Sky TV are burdened with contracts and much unwanted content.
A warranted thirst for more proactive viewing undoubtedly played a part in the high degree of interest this week as Coliseum Sports Media unveiled its scheme to deliver live all 380 games of English Premier League soccer via an online platform.
This interest transcended what was on offer. Soccer is of limited interest in this country and the English games are broadcast in the middle of the night.
Sky may, therefore, have not been unduly concerned that it no longer had the rights to screen the Premier League.
However, a 6 per cent slump in its share price immediately after Coliseum's announcement underlined the other factors at play. This initiative has disturbed Sky's near-domination of the screening of major sports in this country. More importantly, it points to the path away from contract television in terms of how we watch sport and, ultimately, all programmes.
This process is already under way. NBA basketball and Major League Baseball offer internet subscriptions here. Logically, there is a sizeable market of people who want to pick and choose what they watch. Not least, perhaps, there are those who have been reluctant to take on the cost and commitment of subscription television.
Coliseum says it is also looking at French and Italian soccer. They are also a minority taste.
But if its initial foray is a success, it will surely seek to take other sporting events off Sky, including the likes of motor racing and major golf tournaments.
Sky's hegemony of rugby, rugby league and cricket may not yet be under threat, but it will certainly have to pay more for the wide range of sport that underpins much of its appeal. Its response to the new environment highlighted by Coliseum-style intrusions has already begun with the offer of short-term options. This includes a one-off price to watch this weekend's third test between the All Blacks and France through its Igloo platform.
Coliseum has done itself much good from both the public relations and audience-attracting perspective by establishing a partnership with Television New Zealand. This will see the latter present one Premier League match a week, as well as a highlights package.
However, there are questions about its initiative, not least those related to broadband quality. It should also not be forgotten that Sky's convenience as a one-stop shop for sport has not always been fully appreciated.
Ultimately, however, a large number of people want, ideally, to dip into their pockets only for what they consider major sporting events.
Coliseum's season pass is some way from that ideal because subscribers will pay, effectively, for all Premier League games, not just those of the club they follow with a passion.
Nonetheless, it has struck a chord. Sports fans, seeing the implications and the potential, will be watching keenly.