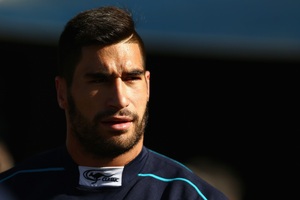 What we have to think about is how many kids have been saved by league because there are scores who come from bad upbringings.
There's this ridiculous notion in league, like most professional sports, that players are role models.
Players are not role models and should not be considered role models. Some do provide a great example to many on how to live life but there are others who you wouldn't want your kids trying to emulate.
The events of the past week involving James Tamou (drink driving), Blake Ferguson (allegations of indecent assault) and George Burgess (wilful damage) have illustrated that. They were stupid acts and unacceptable.
But when it comes down to it, league does a good job. Their education and welfare initiatives are tremendously successful and, overall, they do well at providing pathways and guidance for players to make the right choices in life.
Believe me, many have battled huge issues to get to where they are, whether it's social, familial, financial or educational. What we have to think about is how many kids have been saved by league because there are scores who come from bad upbringings. Inevitably, the indiscretions are magnified because of the high profile many players enjoy. People label them a disgrace but it's no different to what happens anywhere else on a Friday or Saturday night. For some reason, they are put on a pedestal and it just doesn't make sense.
League is a reflection of society. There are good people and bad eggs in the same way there are in any other walk of life. The difference is their indiscretions are played out in public.
The NRL need to be applauded for taking a hard line against players who cross the line. You couldn't have always said that in the past, especially with high-profile players, but Tamou, for instance, was hit very heavily.
His indiscretion probably cost him close to $70,000 as well as a spot in the Queensland Origin side. If I was a player who got hit by that, I think I would quickly realise I wouldn't be putting myself in that situation again.
Players need to realise how lucky they are to be paid handsomely for playing the sport they love. The new under-20s competition is putting money in young kids' pockets. They might not realise how lucky they are until they go into a "real" job and work nine hours a day.
Someone like Josh Dugan, who has a colourful past, has learned his lesson because he's had to work a normal job. League alone was never going to be able to sort out his issues because it takes time and effort to do that.
The issues of the past week are not new problems. Players used to get up to a whole lot more than today's players but they weren't scrutinised in the way they are now. Everyone has a camera phone and word can spread quickly on social media.
I lived a pretty clean life as a player, and still do. I never put myself in a compromising position because it was important to me what people thought of me. I guess it's something I picked up in my upbringing and the friends I mixed with.
But I was a lucky one and it's often said you can't put brains on statues.
Sometimes players won't understand what they are doing until it's too late, and that's a good reason why we shouldn't turn all of these individuals into role models.