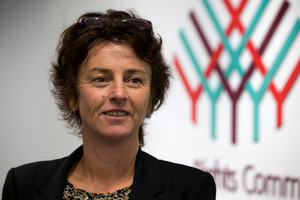 Given the furore over Michael Jones, Irene van Dyk and Dame Susan Devoy all making the shortlist for Race Relations Commissioner, I thought it was time for some inquiry into race relations on the sports field. Here goes.
In the All Blacks, the Franks brothers don't say Keven Mealamu is a Pacific Islander so we won't prop him up. Piri Weepu does not say Dan Carter is a Pakeha from Quota Country (according to Andy Haden) so I will skip him and pass to Ma'a Nonu. Dan does not say Sonny Bill Williams is a leaguie and a Muslim to boot so I won't offend Murray Deaker by passing to SBW, I will just kick for touch.
Brilliant athlete that he is, SBW is told by his manager Khoder Nasser that although Ma'a wears mascara and is from Wellington, you pass to him because he will break the line and score and people will remember your brilliant offload. If Ma'a is tackled (he was never going to pass and that has nothing to do with the race of others) the first man there, Richie McCaw, doesn't wait for the advisory committee of Jerome Kaino and co, but gets on with the job of burgling the ball, legal or not.
The reason these athletes just get on with the job is because they were inspired by the coach to sign up to the game plan. That's right, all 23 (including reserves) are clear on the game plan and committed to playing their part in order to win.
Of course sometimes old Piri doesn't feel so inspired and the coach will take him aside for a "quiet chat" and sometimes Piri gets a "spell" to get into shape - but he is an integral part of the team and its game plan. Sometimes old Jimmy Cowan or young Zac Guildford step outside the protocols and the coach sends them to the "naughty corner", but just like Piri they remain part of the team, unless of course they decide to take their boots and head overseas.
Now, Dame Susan Devoy gets this team stuff. She realises we are Two Primary and many complementary Islands but we are one country. She gets that we are Two Primary and many complementary Peoples but to succeed we must be one Nation. She understands that her job is to inspire the team to Nationbuilding.
She gets that she needs to understand all the perils and intricacies that stop us achieving as a team. She totally gets that sometimes the referee, the touch judges and even the video referee get it wrong.
Even more daunting is the fact that there are 4.3 million experts out there who apparently always gets it more right than anyone else and have a monopoly on solutions. She appreciates that Conrad Smith needs to leave his Hurricanes jersey at home;
Richie needs to leave his Crusaders jersey under his pillow and Ma'a needs to leave all three of his jerseys with his mascara in his bag and only wear the black one when they play for the national team. She also gets that when they go home, Ma'a is free to wear all his jerseys and matching mascara.
So let's give Coach Devoy an opportunity to mould this nation into a winning team, even when she slips up. Remember how we wanted to crucify Graham Henry after Cardiff and now we call him a World Cup champion and Sir.
Let's not judge her before we know her and even when we think we know her, let's focus on the results.


Gregory Fortuin is a former Race Relations Conciliator.