Frisbee packed and ready to conquer Mt Kilimanjaro on safari.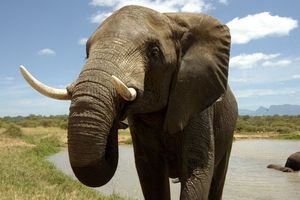 Africa Travel Diary: Episode one. "Departure Day".
Today I woke up with a hiss and a roar, not because I was raring to go but because my 3-year-old body-slammed me. I would've been angry if I wasn't so impressed with his detailed impression of a pterodactyl nesting. There's nothing like getting winded by a tiny dinosaur at 6am ... is there? I had to get up anyway, for today was D-Day.
After going back to sleep and then being woken up again at 7.15am by the wife, I took off downstairs to have a caramel coffee. No sooner had I poured the boiling water into my novelty CSI mug when Ding Dong Dell, Pussy's in the Well, the security gate jingle, sounded. It was Chris, the World Vision CEO, 15 minutes early.
"What the?" I said to myself out loud. After which I instantly thought isn't it strange that "what the?" has become a sentence? Oh well, no time for the joys of caramel now. I left it on the bench hoping the delectable aroma would waft upstairs and awaken my kin (who speaks like that?).
By 8:20am Chris and I were on air talking to Susan Wood about our mission. Yes, this was serious stuff. We're about to embark on a journey to Africa after all. No doubt you've heard the news: I'm climbing Mt Kilimanjaro as part of a team to raise awareness for World Vision's fantastic micro loan process. After the interview Chris took me back to my house, nothing untoward, he was just dropping me off. "See you in Dubai," he said.
I spent the rest of the morning putting myself on video tape for an American sitcom audition. My wife read the "off-lines" and as usual put me off by smiling at odd times and looking at me weirdly. Then I got in the car and drove to St Luke's mall. I bought a size 3 soccer ball (deflated), a pump and a red frisbee with New Zealand written on it. These are gifts for some of the kids we'll be visiting in Africa. I know they'll be well into football but I'm not sure about frisbee. If not I intend to teach them. I have fond memories of playing frisbee as a kid. Some say it's a two-person game but I'll have you know I'm one of the few that mastered the solo frisbee gig. At the age of 12 I could throw it at such an angle that it would "kiss the sky" and then return to my hand. Jimi Hendrix wrote a song about it. That being said, I'm sure frisbee is a game the whole village can play.
In the afternoon Rosie (the wife) and I collected all our things, including the kids, and piled into a taxi bound for the airport.
"Who's looking forward to seeing the animals in Africa?" I asked my kids. "Can't we just go to the zoo?" was the reply.