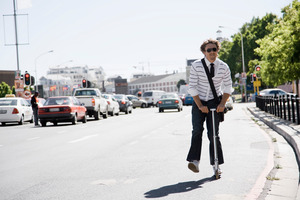 I love seeing kids going to school on their scooters. It looks like such fun, such a kid thing to do, rocketing down the road on two wheels and a flimsy piece of metal, gaining momentum with your feet then enjoying the coast down the hill. You couldn't be grumpy on a scooter.
And they're not just for kids. A number of adults use scooters to get around as well - at least in Grey Lynn and Ponsonby.
You probably don't see as many adults on scooters in Epsom or Remuera but they're alive and well where we live. There's a well-dressed woman who looks to be in her 50s who scoots merrily around the suburb, expensive low-heeled shoes pushing her past the queues at the bus stop.
Of course, as more people hop on their scooters, so we're seeing a commensurate rise in the number of injuries as a result of scooter accidents. The numbers are staggering - in just five years, the number of ACC claims has risen from 697 to 6474.
That's a lot of broken collarbones, arms and wrists. That's also quite a few head injuries and that is what has got the Safekids lobby group concerned. They're the group behind the Safe2Scoot campaign that's being launched in August, encouraging schools to implement a no-helmet, no-scooter rule.
Safekids would like to go further and make it mandatory that helmets be worn on bikes, scooters and skateboards - in fact, any wheeled recreational device, irrespective of the age of the rider.
Good luck in getting skateboarders to comply with that. The skateboard culture is anti-authority, gently anarchic and older than the scooter community. In the most-watched skateboard clips on YouTube, the only thing between the heads of the skateboarders and the concrete they are jumping over is their skill and a snapback hat.
When their heroes eschew protective headgear, you can bet your bottom dollar our kids will give them a miss too. There's more chance of getting scooter riders into the habit of putting on their helmets before they push off. They're younger than the skateboarders and they're using the scooter as a means of transport from their homes to their schools - both places where, theoretically, the adults have the power to set the rules.
I know that helmets aren't going to protect kids from broken arms. But I'm okay with the odd broken arm. Going to school with a funky coloured cast on your am is cool. Brain injuries aren't so cool.
There's nothing attractive about drooling food from your mouth for the rest of your life and never being able to wipe your own bum.
I accept that there's an element of risk in everything we do. I've also lived long enough to know that when your number's up, it's up.
Remember the expat Kiwi walking down a road in London on his way to work and being killed after a shop sign fell on his head? The odds of being in that exact spot at that specific time are huge.
But I also know that I want to do my bit. I have a horror of having to depend on other people. So, if I can do my best to mitigate against the worst possible scenario, I'll do it.
Accordingly, I wouldn't dress my child in full body armour to protect against cuts, scrapes, grazes, dislocations and fractures. But I would insist on a helmet to try to protect their precious brains.
• Safekids won a $30,000 grant from Jetstar's Flying Start programme to launch the scooter helmet campaign. The Herald on Sunday is the scheme's media partner.