Each week, Wendyl Nissen takes a packaged food item and decodes what the label tells you about its contents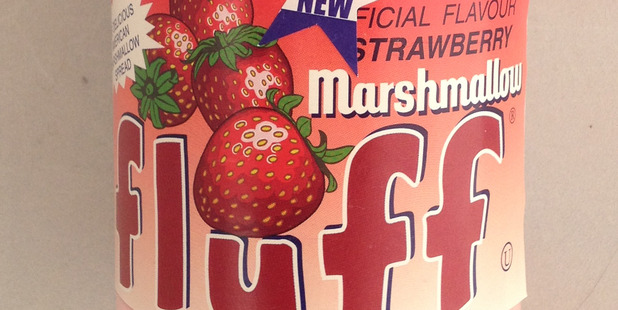 I am using this jar of Strawberry Marshmallow Fluff to christen a new food category for my column called "Loud and Proud".
How often do you find a product which proudly displays in bold letters "artificial flavour" on its label as well as the fact that it comes from the United States? Not for this manufacturer the tiny type hidden in among the ingredients list. Let's shout it from the rooftops. "This is not real food."
I picked it up and wondered who on earth would buy this. And then I noticed that there was a lot of it on the shelf. So somebody ... actually quite a few somebodies were telling the supermarket concerned that they needed the stuff.
I got home and put it in my office where my daughter discovered it later in the day.
"I have been looking for this everywhere!" she said, her face a picture of sheer delight.
I had found my somebody. Apparently this stuff is all over the internet, I can't believe I've missed it.
Further research online told me this marshmallow spread has been around in the US since the 1920s and has become quite the icon. A Fluffernutter is a white bread sandwich made with this Fluff and peanut butter. Or you could make a fruit salad by combining the contents of this jar with cups of cream, mayonnaise, cream cheese and fruit. Puts a new perspective on your "5 plus a day".

Ingredients
• Corn syrup - This is basically a liquid sugar taken from corn.
• Sugar - The sugar content in this product is very high. In fact 49 per cent of this Marshmallow Fluff is sugar.
• Dried egg white - Most marshmallow recipes call for egg white in order to achieve the fluff required.
• Artificial flavour and colouring E 129. - We all know that it is far cheaper to use an artificial flavour for strawberry than it is to mush up a lot of real strawberries and extract the flavour.
The artificial colour used is Allura Red (E129) which has been voluntarily phased out for use in the United Kingdom. Since July 2010 the EU made it mandatory to put a warning on the label of food which contains the colouring that it "may have effects on activity and attention in children".

My recommendations
It is a bit concerning that the serving hints on this jar tell you to spread this fluff on "toast, scones or teacakes as part of a balanced breakfast." I'm not sure that a food which is 49 per cent sugar could really be used in the same sentence as "balanced".
I'm also not sure I would like to see my daughter combine "4 heaping tbsp" of this product to 3 tbsp of water and microwave for a hot drink.
When it comes to a spread for a really balanced breakfast stick to peanut butter (no added sugar) for some protein and real food and, if they really need a bit of sweetness, some jam made with real strawberries.

Highlights
• 49% sugar.
• Proudly advertised artificial colours and flavours.
• Uses Allura Red which must carry a label warning in the EU.

Do you have a food product you would like to feature in Wendyl Wants to Know? Email wendylwantstoknow@gmail.com with suggestions. Unfortunately, Wendyl cannot correspond with readers.