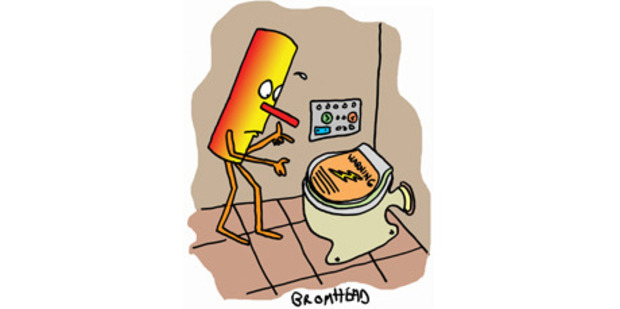 The last thing you expect to encounter in tropical Hawaii is an electrically heated toilet seat.
Upgraded to a hotel suite - thanks to the caregiver's generosity in celebrating my birthday recently - I experienced accommodation where the suite's three toilets occupied a space larger than my entire Auckland apartment.
Being a simple, working-class boy, I approached these "luxury" throne rooms with some hesitation. The lid covers carried a large warning notice, stating the precautions to be exercised with plugged-in toilets.
Having been traumatised by a lightning strike on our Honolulu-bound aircraft, I naturally felt some nervousness at further encounters with anything involving high voltage.
I resolved these apprehensions by persuading my small son to use the facilities first. If a 7-year-old can survive spraying the entire toilet area, as small children tend to do, then I presumed it would be safe for me to follow.
It took me another three days to pluck up the courage to try the thrones' various oscillating buttons, provided in a battery of wall-mounted switches similar to a fighter jet's control panel.
I was glad each toilet had an emergency telephone, presumably provided in case an ablution spun out of control.
American hospitality continues to baffle. So-called executive suites provide enormous lounges and numerous TV monitors, plus the usual super-king-size beds and gargantuan cabinetry - but only a single teabag in the refreshment cupboard.
When it comes to tea-making facilities or alcohol, you're better off in a motel in Huntly or Eketahuna.
I presumed the solitary teabag provided was a mistake, but each morning, housekeeping religiously refilled the storage container with one teabag - even though the suite was clearly occupied by four guests.
One of the refreshing reasons for visiting Hawaii is escaping New Zealand's booze culture.
Strolling the sidewalks late at night in Honolulu without encountering drunken teenagers was an unaccustomed pleasure.
Strict ID inspection before ordering alcohol is mandatory; even at 80 I had to produce identification before they'd serve me a glass of wine.
This unintentional flattery makes up for the latest suggestion that I'm over the hill: clearing airport security as an octogenarian, I no longer have to be finger printed or remove my shoes.
Apparently, I'm considered too doddery to be a threat to America.