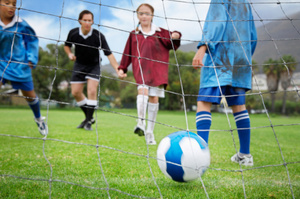 A Huffington Post writer reckons parents can't be trusted to behave when viewing their child's sporting matches. In Ban Parents on the Sidelines? she wrote: "Youth sports bring out the worst in parents. Some parents are aggressive and obnoxious" and "[t]he more I consider parents on the sidelines the more I wonder if they should be banned from everything but the occasional game or tournament. Organized sports should be organized for kids to PLAY ... They should not be playing under the watchful, judging and often-confused eyes of parents."
The theme is continued in Teaching Parents How To Stay In Control On Youth Sports Sidelines which states "[t]he problems range from parents yelling at parents, parents verbally abusing referees, to incidents of physical violence between adults." According to the author of this piece, as well as setting a bad example, this sort of behaviour constitutes a form of emotional abuse.
Locally, Dad forces son, 9, to punch player tells of parent-led violence associated with an "on-field scuffle" at a rugby league match while Sideline Champs: The taming of the netball crowds reported about an Auckland father who "was banned from watching his daughter play netball after he repeatedly swore, grabbed the teacher coach and reduced a student referee to tears".
Herald on Sunday editorial: Stand up for fair play unequivocally derided this sort of violent behaviour. It highlighted "[s]pectator aggression", "unruliness on the sidelines", how "[n]ormally mild-mannered parents turn into ranting fools" and "parents losing their self-control and raging at referees, coaches or other spectators".
In Sideline Champs: Sporting action against 'ugly' fans a senior lecturer at AUT University said, "A lot of kids will leave sport if they are being continually yelled at by parents." I watch schoolgirl hockey most Saturdays in winter and luckily I've yet to witness any untoward behaviour on the sidelines. I do wonder, though, whether parental coaching (at any volume) is appropriate mid-game.
At one match a father (very positively and good-naturedly, by the way) enthusiastically instructed his team. "Sticks down. Trap it. Great play, Georgia. To the goal. To the goal. Great play, Lauren. Spread out, Megan. Go wide, Megan. Great tackle, Sugar. Chelsea, stick on your player. Go, Scarlet. Go wide, Megan," he said. It was very loud and I moved as far away as I could.
Three years watching my daughter compete in the equestrian section at A&P shows have programmed me into thinking that any parental input from the sidelines is just plain wrong. Once your child and her pony are under the judge's scrutiny, etiquette dictates that no one communicates with them from outside the ring. I think that's a good thing. After all, it's too late to start coaching a child once they're actually in competition or playing a match. Strategic direction and training should take place in a different, less public, forum.
Some commentators believe the answer to containing eruptions of anger and violence from fathers may lie in banning parents from the games. Yet such a solution would be unpalatable for many of us. Practicalities alone dictate that adults must usually ferry children (especially young ones) to and from the venues. Adults need to be present and most are keen to cheer from the sidelines. It's just that some of them need to modify their behaviour.
And yes, I did just say "fathers". For some unfathomable reason, campaigns in this country, as well as articles overseas, focus on the gender-neutral rather than the gender-specific when referring to the perpetrators of misbehaviour on the sidelines.
But surely it's time to stop blaming parents (in general) when it's almost invariably fathers (in particular) who are out of line. I haven't seen too many reports of mothers promoting violence and unruliness at children's sporting matches. Any campaigns ought reflect this truth rather than tiptoe delicately around the issue.
What's your view of the behaviour of parents at the sidelines? Is enthusiastic cheering okay? What about issuing instructions? Is it mainly fathers or have you witnessed a mother who has stepped over the line of what's acceptable behaviour at a child's sporting fixture?