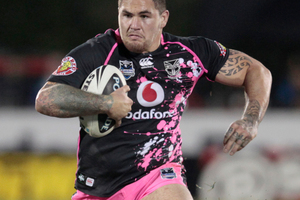 Whatever he was thinking (or feeling) that prompted last week's indiscretion in the waterworks department, Warriors prop Russell Packer's actions demanded more common sense and less hysteria than shown by the NRL's men in grey suits who gathered to adjudicate.
After all, as one wily retired police detective sagely observed: "The evidence was only one decent rain shower from being washed away anyway."
How many men out there have been burdened with a similar dilemma in the local movie theatre when roaring rapids or a flowing fountain has tested the bladder to its elastic limits?
The older we get, the greater the likelihood of a capitulation to "the forces of nature" - gravity can be a powerful magnet for a man in a hurry.
Packer had used the changing room toilet during his warm-up period and, with the game about to start, did not feel he could go back in to the sheds to finish what he had started.
The NRL was quick to jump on the actions of the young prop, which proved a welcome diversion later in the week from the Paul Gallen incident in which the New South Wales captain landed a couple of cheap shots on the beak of Queensland enforcer Nate Myles.
Predictably, Gallen received a severe "tsk tsk" for his indiscretion which he explained on TV's Footy Show.
Which action was worse? A stupid, thoughtless and tasteless lack of decency which only a handful of people would have seen until the television cameras (surely by chance) picked it up 40 metres away, or Gallen's seemingly premeditated hit on the player NSW had designated as the danger man of the Queensland pack.
It's always hard to grade two such disparate actions in order of severity - and, anyway, what is a breach notice; a breach of what? Packer's actions were naive, unhygienic and unthinking. Gallen's were deliberate and violent foul play.
Both players deserve censure. Surely the NRL should have given more thought to an intelligent judicial review of Packer's actions - this involving a reprimand, a minimal suspension and a compulsory attendance at a public health clinic aligned to the NRL, to point out to the young man the unacceptability of such on-field behaviour. This in itself would carry some measure of humiliation for the player.
Gallen also clearly breached a standard. But the nature of his attack on Myles suggested that there exists, as commentators have long suspected, some form of tacit understanding about the level of foul play allowed in State of Origin compared to NRL football.