Ruling out of Big Lebowski remake only enshrines its lovable weirdness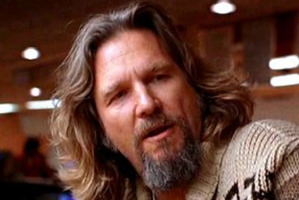 The Dude abides, but he won't be making a comeback. After years of rumour, speculation and dwindling hope, the Coen brothers have ruled out making a sequel to their 1998 cult movie The Big Lebowski.
While they were at it, they poured cold water on co-star John Turturro's dream of a spin-off featuring his character Jesus Quintana, convicted sex offender and ace 10-pin bowler ("The creep can roll"), provisionally titled The Second Coming.
In reality, it was always a long shot. Tracking the brothers' progress from their debut, 1984's Texas noir Blood Simple, through to Inside Llewyn Davis, their new movie set in the early 1960s Greenwich Village folk music scene, there are two constants: black humour and change. They never repeat themselves.
Nor are they swayed by fan worship or acclaim, shrugging off news that a literary homage to The Big Lebowski was in the works thus: "They have neither our blessing nor our curse."
You can argue over what makes a cult movie, but the following generally apply: it was ignored, dismissed or misunderstood when it came out; its reputation and popularity have grown over time; it repays repeat viewings.
The Coens' preceding film Fargo was a modest commercial and resounding critical success, earning them an Academy Award for best original screenplay. TBL was neither. Even some of their admirers were underwhelmed.
An American academic, who pulled off the difficult feat of writing a tedious book about the Coens, sniffily described it as "an exercise in post-modern pointlessness". In other words, he didn't get the joke.
Fifteen years on it looks rather different. Films the critics deemed important, such as The Man Who Wasn't There and O Brother, Where Art Thou, now seem unlikely to stand the test of time. Meanwhile the Lebowski Fest, an annual multi-city festival at which fans dress up as their favourite character, go bowling and exchange chunks of dialogue, gets bigger every year and has spread across the Atlantic.
Readers of movie magazine Empire recently voted TBL the third funniest comedy of all time, behind Airplane and Anchorman: The Legend of Ron Burgundy. With respect, those films are one-dimensional spoofs that strain every sinew to get a laugh, however cheap.
TBL, which if the advertising can be trusted will be shown on Sky's new Classic Movies channel, is nothing if not multi-dimensional. A factor in both the initial resistance and its enduring appeal is that it spectacularly fails the accessibility test: that you can explain the basic premise in one short sentence.
The central character is a former student activist turned layabout named Jeff Lebowski who answers to Dude "or Duder, His Dudeness or El Duderino, if you're not into the whole brevity thing". In voiceover he's described as "quite possibly the laziest man in Los Angeles County, which would place him high in the running for laziest worldwide".
The Dude is a product of the 1970s counter-culture characterised by political radicalism, self-indulgence and rock music. As the other Jeffrey Lebowski, a disabled, self-made millionaire (hence the title) tells him, "Your revolution is over. Condolences - the bums lost. My advice to you is to do what your parents did: get a job."
Most did. Some rose to such giddy heights as being mayor of Invercargill. But the Dude never bothered to read the writing on the wall. In that sense TBL is a Peter Pan story about someone who refused to become responsible.
Or it can be seen as a parody of the hard-boiled Southern Californian private eye story made famous by Raymond Chandler. The Coens have acknowledged their debt to Robert Altman's 1973 adaptation of Chandler's The Long Goodbye which infuriated Chandler purists by turning his dogged, melancholic hero Philip Marlowe into an easy-going naif.
Or perhaps it's a picaresque ramble across the pop cultural landscape featuring a dozen or so loosely connected scenes which happen to be among the zaniest, most original and funniest ever captured on celluloid.
But above all it's the dialogue that delights and draws you back. Much of it is profane: someone did a count - that's the sort of thing cultists do - and came up with 281 F words.
There won't be a sequel, but there's another version out there as a result of overdubbing to meet the prissy requirements of American television. In its own way, this version may be even more surreal. For instance, in The Bowdlerised Lebowski the immortal line "That's what you get when you f*** a stranger in the a**" becomes "That's what you get when you find a stranger in the alps".