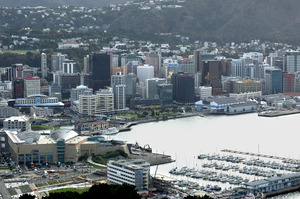 The reality is, even Wellington is dying ..."
Thus spake the Great Smiley Leader a while back. Then the population of our capital city rose up to assure him it was very much alive, though he might not be for much longer if he continued to spout such utterances. So the GSL, as is his way, back-tracked and side-stepped and said something about how he was talking about company head offices all moving to Auckland, blah, blah.
But despite the GSL's desire to the contrary, you can't ever fully take back words you have said, so the stench of death still hangs around Wellington. Or does it? For Wellington promotes itself as the Coolest Little Capital in the World, so maybe what the GSL mistook for the icy hand of death was, in fact, an excess of capital cool. To find out for sure, one way or the other, I turned myself into an intrepid reporter and (under the guise of a trip away with the whanau) spent the recent Queen's Birthday long weekend on an investigative investigation into the dead versus cool dilemma.
Cuba St, if I've done my research correctly, is generally regarded as the coolest part of the Coolest Capital, so it was here I based my research. And, yes, the beard/glasses/beanie look of the effortlessly-cool-hip-indie-singer-songwriter was everywhere to be seen, thus clearly indicating a concerted effort among the populous to be cool. Or possibly it was quite cold and maybe people read quite a lot down in Wellington.
Weta Workshop was touted by the GSL as one of the few places in Wellington that was actually alive and, indeed, on my investigations behind-the-scenes at the Miramar facility, there did seem to be many alive people working there. But it was also cool, very cool, in a deeply uncool way and therefore didn't provide any clarity on the death/coolness conundrum at all. But it was cool, way cool.
Next stop was the Westpac Stadium, the building you're apparently not meant to call a cake tin even though "cake tin" is way better than what it actually looks like, which is a giant corrugated iron water tank. Having supported the Hurricanes for many years, I know for a fact that if there was once a place in Wellington where death (through frustration, despair and stress-related causes) could be found, it would be at the cake tank.
And lo, there they were, thousands upon thousands of the living dead. Maybe the GSL was right, and I had stumbled upon the motherlode. Of course, I was at the Wellington Armageddon geek-fest, so the dead in question were actually people dressed as zombies - which is, in itself, a form of social death. They all, however, seemed to be having a lot of fun and thousands of people having fun is not generally something you associate with the City of the Dead.
So my search for signs of death, as opposed to an overdose of coolness, continued into the night. The night market just off Cuba Mall didn't seem full of dead people; just young people having fun, eating interesting food and being, well, cool. Except for the lady running the African food stall, who was uncool because she was angry that the queue from the langosch stand was so long it was blocking people from buying her goat curry. I didn't have the heart to tell her that maybe the goat curry combined with the African drummers banging away incessantly right next door, rather than Hungarian deep-fried bread, might have contributed to her lack of queues. But I didn't because that would have been uncool, and therefore would have clouded my judgment.
Be it at Te Papa for the Warhol exhibition; at the Film Archive for a very cool 1953 Ed climbs Everest documentary; dining with friends on one of the hillside suburbs that hadn't fallen down; at the Wellington Museum of City and Sea (apparently the 41st Best Museum in the World); or wandering the inner-city streets, nowhere did I see many (or any) signs of death. I did see some possibly dead people in Kirkcaldie & Stains, but on a second look it turned out they were actually just glum from having to be cool all the time.
So is Wellington dead, like the GSL said? Well, having looked at the issue from all the sides available to me in the time I had, I would, on balance, just quietly, have to say that the GSL has no freakin' idea what he's talking about. Wellington was, in my humble opinion, very much alive - and cool.
Mind you, I didn't check out Parliament. Parliament definitely isn't cool, so maybe that was the dead Wellington the GSL was referring to.
Which makes perfect sense, when you think about it.