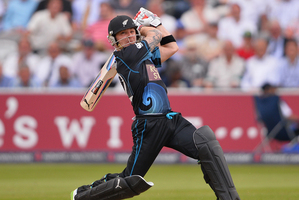 Thursday morning's third and final one-dayer is a chance for New Zealand captain Brendon McCullum to turn rhetoric into reality by showing the team has an uncompromising attitude under his leadership.
Fans are well aware of the dichotomy in performances at test and one-day level, but put that aside briefly. A clean sweep of the three-match series against England in Nottingham would send a clear message New Zealand deserve respect and can intimidate if given the opportunity in the Champions Trophy.
Yes, England were without the services of Steve Finn and Stuart Broad for the first two games. Their absence is notable but it says more about a lack of depth that others (including prolific test wicket-takers Graeme Swann and James Anderson) have not provided sufficient cover.
New Zealand have been without Daniel Vettori for both games and Tim Southee for the second, yet they have won emphatically both chasing and setting a total. Expect Southee to add pep to the New Zealand attack if fit. However, odds on Vettori playing remain slim.
The extent of the aggravation to his Achilles tendon remains a medical moot point.
"Our confidence [of using him in the Champions Trophy] is slowly increasing but I don't want to put extra pressure on him," McCullum said.
"With his record of 272 games he will walk back in when fit and ready but I guess my brother [fellow spinner Nathan] will have something to say about that," McCullum grinned. "We'll see. There might be an opportunity to play two specialist spinners."
After the second match, McCullum reflected on winning an ODI series which no other side has managed away against England since Australia in September 2009.
"Considering where they are on the rankings [third versus eighth at the start of play in the second ODI] and in their own conditions, it was great to wrap up the series in two games. It shows how good the team can be when we get things in order."
McCullum said Southee had been rested but there was no place for further rotation in the final match.
"A 3-0 result would be as good as it gets. We want to continue building momentum. Our selections will reflect that."
McCullum has the countenance of someone with unfinished business. He will not have forgotten they let a 3-0 series victory slip in South Africa when Ryan McLaren hit James Franklin for six off the last ball at Potchefstroom to win by one wicket.
While it was a fine recovery for New Zealand, sans Ross Taylor, to win a series 2-1 after a 2-0 test trouncing, McCullum hardly wants a repeat. Any suggestion their footing gets uncertain near an opposition's throat would be a jittery look heading into a tournament which quickly turns knockout.
3rd ODI v England
Nottingham, Thursday, starts 1am.