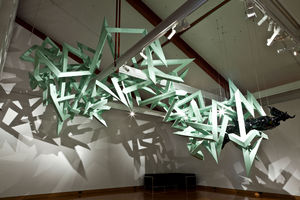 Arts matters
First, let's get the gripes out of the way. The name of the Auckland Triennial - "If you were to live here ...", mundanely scrawled on the world's largest Post-It note - manages to be both insulting and even more insipid than last year's land-title "Home AKL".
Who are "you" supposed to be?
"For most of us from abroad," writes Hou Hanru, the Triennial curator, "living in New Zealand seems improbable due to its distance from the 'centre' of the world". Who are "us"? I suspect "us", "you" and Hou are all part of the same globalised, Cartesian-minded, art jetset.
Then, scattered across multiple venues, a triennial needs hype - and, as the main placemat, Auckland Art Gallery should be rah-rah central. Yet I went there for an unrelated talk last week - and even walked underneath a triennial artwork (Saffronn Te Ratana, Ngataiharuru Taepa and Hemi Macgregor's chilling, powerfully angry "Ka kata te po") - without once being reminded some triennial thingy was on here, right now.
Why is Michael Lin et al's lifesize "model home" tucked away in the back room, with insufficient wall explanation, and not in the atrium as a vivid signpost of excitement? (Still, thanks to its placement, I stumbled across Lois White and Tony Fomison in neighbouring non-triennial rooms). AUT's St Paul St Gallery - with loud and proud banners and information - puts the big cheese to shame.
Last gripe: it's great that Fresh Gallery is included, but why no other suburban venues? This place-themed triennial sure is geographically restricted. But perhaps that's the point. Hou's stated aim is to make the gallery a space for discussion not just display; it is to bring the outside in - the public and also plants (in the case of Yangjiang Group at George Fraser Gallery) and extraordinary artefacts of historic-horror (particular garage doors), courtesy of artist Luke Willis Thompson. It seems this aim of exchange is working - perhaps even better over informal Chinese tea at the George Fraser than in lectures at the "Lab".
So don't let the uninviting title put you off. The artworks and events seem mostly fabulous, and the unitary plan debate makes them tres zeitgeist. Pretend the title is "If you didn't live here ..." and visit the venues like a tourist. Or escape the rat race at lunchtimes - sip Local Time's free Law School spring water and watch one of the many films, screened large and in darkness for that full immersive effect.
While Hou affirms the hegemony of the cultural "centre" in his catalogue essay, happily he decentres it slightly. Artists hail from China, Singapore, Puerto Rico, Brazil, Pakistan, Australia and New Zealand. Some are from the United States, but none from Britain; the only Europe-based artists are from France (where Hou lives). They've come to the ends of the Earth; we could meet them halfway, in Otara and the CBD.