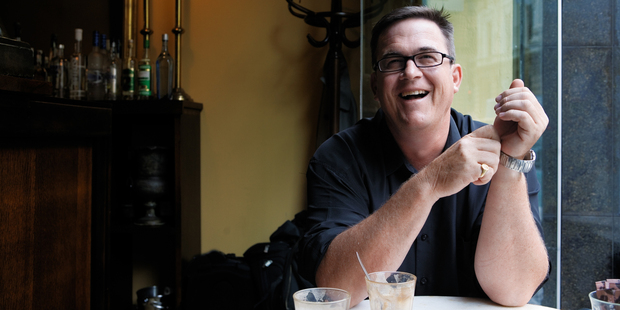 There's been a few changes in Auckland's post-breakfast radio-scape. Some things are the same: Leighton Smith is still the king of morning talk, in numbers at least. The master of silver-tongued right-wing rhetoric will be a hard nut to crack for his competitors for years to come.
Likewise left leaning hang-wringers have Kathryn Ryan on RNZ National to keep them informed about the latest problem at a DHB or a funding issue at the ministry of this or that.
Like Smith she has a large audience plus the added advantage of an ad-free environment. It's one of the few places on New Zealand radio where you don't have to contemplate the beating of the Mad Butcher's meat.
Both of these shows have loyal listenerships who have their dials fused to the spot.
Weirdo's like me like flick around the dial. Until recently my diet included bFM's Charlotte Ryan (now decamped to Kiwi FM in the arvos) and occasionally Michael Laws on Radio Live. I knew that if there was one of his pet subjects in the news he'd be saying something to get my blood boiling. Given that I tended to be driving at this time of day, that was possibly not a great thing.
Ryan is missed on the mornings, Laws, not so much. I tuned into his final show a few months back thinking that I might feel something. That maybe he would reveal a hitherto hidden corner of humanity. But he began to talk himself up as some sort of heroic figure,
a self-proclaimed protector of Maori children from abusive feral parents, blah, blah, blah.
The problem with Laws is that he's an amateur.
Like John Banks, who ran the breakfast show on Pacific for a few years, he was a politician-turned-talkback host. Which is almost as hopeless an enterprise as taking a broadcaster into Parliament. Two words illustrate this point. Brendan Horan. Although it's a stretch to call the former weatherman a broadcaster. Others have been more successful, but as a general rule politics and broadcasting are two different trades.
Presumably Radio Live persevered with Laws for so long because he had an audience, and presumably they figured they could get a bigger one with his replacement, Sean Plunket.

Plunket has something that Laws lacks, he has range. He can stick to the talkback knitting: inciting the mob with black and white proclamations, presenting red rags to the angry bulls and babbling like a conservative. But he can talk to newsmakers and politicians too. He can do reasonable. Also, he's done his time, in the Parliamentary press gallery, as a TV reporter, and he even made RNZ's Morning Report entertaining, giving it some much-needed and some much-missed mongrel. (Good news on this front is that Kim Hill is returning to the role next month while Geoff Robinson takes leave.)
I tuned in Monday last and found him in great form, thanks in no small part to the emperor of talkback, Winston Peters, whose "Super City of Sin" speech was providing tinder-dry kindling for the flames of indignation. I pictured Plunket with a set of bellows as the callers flickered to life.

To get the ball rolling, Plunket declared Winston a racist.
"Have you been up to Auckland lately? The Asians are everywhere", said the first caller. "They're buying all the houses," said another.
Others lamented a lost age. "What I grew up with was all gone, I mean have you been to downtown Auckland lately?"
A common theme was men who came up to Auckland after many years away who didn't like what they saw. Auckland was "full of Asians" - everything had changed.
"There's a hell of a lot of Asians up there, I was up in Auckland last year and I felt in the minority, I thought shit."
"When I was a boy I used to know Queen Street, now it's Chinatown".
It's doubtful that many of the callers would like to turn the clock back to pre-European times, when New Zealand was filled only with the original breed. The preferred date seems to match up with their childhoods, the 1960s and 70s.
Some even had helpful messages to our Asian cousins. "They need to open up. They keep to themselves. I've tried to talk to them but they are very standoffish. You never get invited to dinner."
Then came Shirley, I bet she gets invited to dinner.
"You might be out of luck with your views on Winston, but I understand you have to run an interesting program." That's a relatively rare thing - a talkback caller who's aware of how the game works.
Shirley disagreed with Plunket, but she could enjoy a good argument without taking offense. Sean was also clearly having fun. "Did you vote for him?" he asked. "Yes," said Shirley, "Ok, I'll speak s l o w l y then."
A few others were also up for a good argument as opposed to the usual rant.
"You complain about racists but you're ageist", suggested another, correcting the host.
"What does that mean?" Plunket said, possibly forgetting that he had just been deriding Winston's voters as wizened old fools who were near death or so riddled with Alzheimer's they'd probably forget to vote anyway.
"No I don't hate old people, just the ones who vote for Winston."
But Winston had hit a chord with his Chinese bashing. His skill at inciting the mob was even admired by Plunket who had promised to get the godfather of New Zealand First on the line.
"Winston isn't really racist himself but he makes it ok for you to be racist."
More callers took up the challenge. "We called Howick Road the Ho Chi Minh trail."
When Winston Peters finally came on the line he had softened the anti-Chinese vibe, and started out making something approaching sense. "New immigrants should be sent to the provinces, to the small towns, like they do in Canada... Auckland is a city that needs to be able to breathe, there's too much gridlock".
The problem presumably now not being that were too many Chinese, there's just not enough room for them. But the scaremongering was never far away. The dark forces were still to be feared.
"All the information from my speech comes from Chinese informants" - he could have been reading from the script of Maxwell Smart - "My informants have shown me all the triad businesses in Auckland."
Winston ended his call with a classic channeling of his famous namesake.
"We won't be cowered into submission." If he wanted to recruit people to help him fight them on the beaches, he's come to right place.
Then Don called up to say "they're all fiddling the till and not paying tax." Plunket fired back ,"well have you tried to do anything about that? Have you called IRD and said oi these guys are dodgy?"
Of course he hadn't. "Well, er, no..."
Sean then administered a mock/stern telling off before attempting to get some calls from them.
"I'd like to hear from all the Asian people who aren't busy fiddling the till of your takeaway, or driving badly or running a brothel, give us a call and tell us what you think."
But while the Asians were too busy to call in, Bob from Bulls wasn't. "I agree with everything Winston says." The man was a huge fan of Peters and had a lot to say. Plunket let him vent for a while before artfully pulling the rug.
"Well under his plan they'd send them all down to you guys. How would you like that?" "Well ...ummm ..." the bloke was stumped, for a moment he was speechless, before deciding that perhaps it wasn't the Chinese who were the problem after all.
"If they came to a smaller town they would be integrated, they'd take part in rugby, it's the big cities that create problems."
By the time I parked the car I had had enough. I'd been entertained. I'd been appalled. Inside I'd died just a little. Talkback at its best.
-nzherald.co.nz