Take-no-prisoners producer expected to bring big changes as board member of restructured company.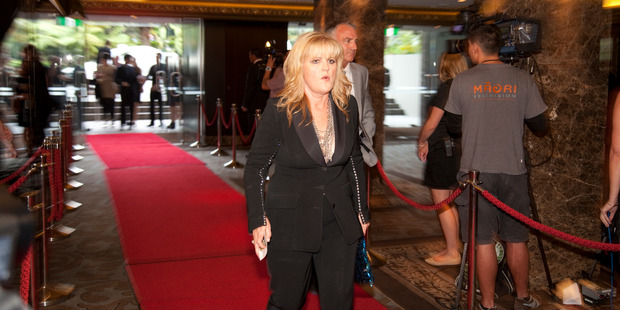 MediaWorks is about to turn into the Julie Christie Media Show.
After years battling high debts and boardroom upheavals, a new board is expected to bring big changes.
In particular board member designate and super-confident millionaire producer Julie Christie will have special focus on TV3 and Four.
Christie and the chairman - former SkyCity chairman Rod McGeoch - are part of a board which will take over running the restructured company on July 1, it is understood.
Both were spotted at TV3 studios this week after returning from Hollywood where they attended the LA Screenings, where Hollywood studios show off their upcoming content and broadcasters pick what they want.
The question is whether the appointment of the new board will affect MediaWorks' programming strategy.
Some at TV3 are nervous that Christies's take-no-prisoners style of management will alter the channel's collegial way of working, although officially she should not be involved in the day-to-day business.
She will be strongly motivated to compete with TVNZ.
Christie made no secret that she was interested in roles with TVNZ. She was snubbed for a place on the board and when she applied for the vacancy of chief executive she did not even make the shortlist.
The job went to a TV ingenue, former House of Travel chief executive Kevin Kenrick. Christie also owns the successful Living and Food channels on Sky TV.
RADIOLIVE DIVE
MediaWorks' TV arm has struggled more than its radio arm, which includes stations such as The Rock and The Edge, and is unlikely to undergo any radical overhaul.
After the recent dramatic crash in the Auckland ratings for RadioLive, a radio industry source questioned whether introducing new voices - like Duncan Garner in drive time and Sean Plunket on nine to noon - goes far enough to break the station out of its ratings slough.
There have been rumours RadioLive is increasingly being seen as a promotional adjunct to TV3 and its invigorated current affairs content.
WHO'S THE BOSS?
It will be interesting to see how TV3 executives handle the relationship with Christie now that one of their most successful content providers is on the board.
Christie has had notable success with reality television.
She made The Block, which brought strong ratings and revenue for TV3 last year. The show is full of product placement and heavy-handed commercial plugs, but had a loyal audience.
TV3 has also been active in its own reality shows such as X Factor, subsidised by taxpayers through NZ On Air.
Christie will bring budget-conscious production nous to the television operation. At a corporate level her record of building up Touchdown, before its sale to the European firm Eyeworks, and its focus on highly commercial programming will be a big drawcard.
Ironbridge Capital bought MediaWorks for $741 million in 2007 and hit trouble after the global financial crisis in 2008, leading to an oppressive debt burden.
Creditors conducted a back-door takeover of MediaWorks, which will lead to a formal restructuring.
DRAMA QUEEN
Around MediaWorks some believe the new board will toy with the future of channel Four.
That will be easier said than done because MediaWorks is committed to programming rights for the channel and there are no obvious buyers.
Another theory is that the new board will reduce the commissioning of drama and focus attention on lower-cost reality TV.
One well-placed sceptic thought that was unlikely given the success of heavily taxpayer-subsidised shows such as Outrageous Fortune on TV3.
One TV producer suggested that even if TV3 pulled back from drama, NZ On Air would still commit a big part of its budget to the genre and TVNZ would pick up the slack.
But that is far from certain in a market where TVNZ is also cutting costs.
Indeed critics of NZ On Air - particularly among fans of public broadcasting - have long lamented its obsession with drama.
It is the most expensive form of television and one that employs the most people. NZ On Air argues it provides the most valuable form of local content.
TAXPAYER FUNDED
New Zealand On Air's drama passion is largely due to the networks' control of the funding system and illustrates how NZ On Air has been used as a crutch for the TV networks.
A recent article by Metro journalist Duncan Greive questioned why TV and radio got support, while print media - in the middle of a major business structural upheaval - fended for themselves.
Print media can provide information to the public at a much more economic price. And there are questions why TV and radio deserve a subsidy and print does not.
Yet many in print media are not keen on taxpayer funding. Not least there is the issue of state-approved journalism illustrated by NZ On Air's chiding TV3 for screening a documentary about poverty in the run-up to the last election.
NETFLICKS JV?
This month the Herald ran an article about pay TV and whether viewers had a lesser service in this country because there was too little competition.
Sky chief executive John Fellet has insisted in the past that new competition like Netflicks was coming to this market.
Intriguingly, he said that Sky had talked with the big American video-on-demand site about forming a joint venture in New Zealand.
He also said that during talks in the past Netflicks said data caps in telco broadband deals were a major deterrent, but that Netflicks had indicated it was still open to the idea.
This week Sky contacted the Herald saying it wanted to make Fellet's comments clearer, and that there were no plans afoot for a joint venture.
But with a Commerce Commission inquiry looking at content contracts between Sky and telcos, and competition, it's intriguing that Sky looked at forming another joint venture with one of its potential competitors, in much the same way it did with TVNZ and Igloo.
MEDIA3
Rumours are rife over the future of Media3 - the public service show that screens on TV3 and is coming to the end of its 20-episode run on July 3.
I'm told producers wanted the next series to take off shortly from midyear - effectively putting it on screen for most of the year.
However, if TV3 does renew it will be included in the October funding round.
I guess Top Shelf Productions would like to maintain momentum for the show and ensure employment for its team.
You can understand them being nervous given the changes that may happen with Christie on the board.
One TV3 source expected it would get a new series next year. The budget is relatively small and is mostly funded by NZ OnAir.
According to this source TV3 had been ambivalent about funding the show, but ran the last two seasons as a favour to NZ On Air, which was under pressure to fund public service content after the closure of TVNZ7.
"The expectation was that the gesture would help TV3 with any future funding round - and that is still the case," the insider said.