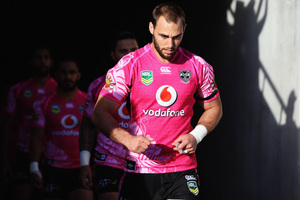 Attitude and character play a big part in professional sport and the Warriors had both of these last weekend against Newcastle.
I'm just glad they realised, after the humiliating defeat to Penrith the previous week, that sometimes you have to look in the mirror, be accountable and try to do your best. They all did that last week.
What that suggests is there were players who weren't giving their all and, together with some defensive deficiencies, that's unacceptable. Last weekend's win should not be seen as an indication they have fixed their issues, it should be used as a template for what they need to do every week.
Teams have always been able to carry one or two underperforming players, and that's still the case, but the selection of Konrad Hurrell in the centres is a gamble.
He's clearly a dangerous player with the ball in hand but he's had his issues on defence and with his handling and he can't afford to let his teammates down against the Broncos.
He has played well for the Vulcans over the past couple of weeks but first grade is a completely different level. You don't want young footballers making mistakes in first grade - you want them to do it in the lower grades.
When Simon Mannering moved to right centre last weekend, you could see everyone got a lift because they had confidence in him to do his job. Carlos Tuimavave might have had a neck injury but Mannering's shift to centre was the best thing for the team.
He has consistently filled holes throughout his career and might have been an option to play centre again on Monday but the amount of injuries to second-rowers and centres hasn't allowed coach Matt Elliott to do this.
The right edge has been a problem area all season and Hurrell will need to be sound. His selection is a gamble because everyone, most of all the players, wants surety and security. They want to know the guy beside them is going to do his job, especially right now because they have started to get back on track and desperately need results.
The Warriors' edges are likely to be areas the Broncos will target.
They are a good side, even though they will be missing four players because of State of Origin duty, and Brisbane is always a hostile place to play. But they are also a side the Warriors lift for.
One good thing is that the Warriors went through what they did last week and won't want to experience it again. For many, it was the first time they have experienced anything like it in their careers.
It made them look at their own games honestly, especially when they had to stand up in front of their teammates and tell them what they can offer to the team and bring to a game.
They will have to bring the same sort of energy and attitude they did against the Knights because there are no easy ways to win games. If even one or two slacken off and leak simple tries, it's amazing how quickly things can turn and they will be back to where they were.
And no one wants that.