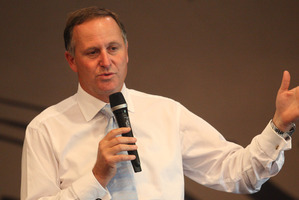 John Key sure doesn't do things by halves. Just witness yesterday's brazen, but hopelessly optimistic bid by National to gain the moral high ground in the endless argument over who is doing what and how much to eradicate child poverty.
Key's audacious move came in the form of a 13-page Government response to last December's hard-hitting report on child poverty produced by a panel of experts for the Children's Commissioner, Dr Russell Wills.
You can argue about the latest report's recommendations. But it is extremely difficult to dismiss its findings. Those findings give cause for considerable discomfort on National's part. Rather than getting into an argument with the authors, the PM has done the politically smart thing and hugged the report.
National is thus claiming to have made "very substantial investments" to prevent and alleviate child poverty. It is claiming its measures are in line with those suggested in the Children's Commissioner's report.
In fact, National's approach is about as "in line" with the report as the atmosphere on Mars is "in line" with that on Earth.
National has accepted some recommendations but has so far ignored big-ticket items like increasing family tax credits and introducing a new child payment. The party is instead patting itself on the back for persisting with Working for Families, an income top-up scheme instituted by Labour which National is too scared to drop or alter.
National has picked up the recommendation for a collaborative food-in-schools programme. But yesterday's announcement of such a scheme only highlights the reality that it has other priorities.The Government is contributing about $2 million a year to the KickStart Breakfast programme over the next five years. That is peanuts.
It is a "feelgood" initiative. Opposition parties should be rubbishing this particular ambulance at the bottom of the cliff.
Key says the scheme is all about the state intervening to help children from poor homes. It is closer to being an abdication of responsibility by the state because it raises serious questions about the adequacy of state assistance at the top of the cliff.
It is thus a scheme that parties of the centre-left should be wary of.