Breakfast a good start but better targeting needed.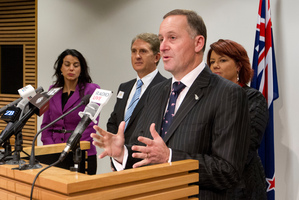 Expectations about the Government's food-in-schools programme have waxed and waned in the past few weeks. Lately, the Prime Minister has sought to play these down, saying the Government's welfare reforms remained the best way to tackle poverty. Duly, the programme announced yesterday was a relatively modest affair. It would have provided little satisfaction to those who wanted to see a comprehensive breakfast programme that reached across the country with no input from the private sector.
There is no denying the problem exists. Teachers in low-income areas have attested over the past few years that tens of thousands of pupils are arriving at school hungry every day. The upshot is a variety of behavioural difficulties, including problems of concentration and an inability to ward off illnesses associated with hunger.
This is not a matter that can be airily dismissed as a matter of parental responsibility. Children are the victims in this, and they need food, not blame directed at their fathers and mothers.
The assistance needs to be carefully tailored, however, and it is on this basis that the Government's response should be judged.
Its programme involves $9.5 million of taxpayer funding over the next five years to allow Fonterra and Sanitarium to expand their schools' breakfast programme to five days a week and, eventually, to all the schools that need it. That KickStart programme currently provides a breakfast of Weet-Bix and milk twice a week to children at about 570 schools, half of all schools in the four lowest-income deciles. The companies, themselves, will have to fund the rest of the estimated $19 million cost of the expansion.
This approach is certainly preferable to a national programme administered by a government ministry. Most propitiously, the private-sector involvement negates the Government's exposure to the risk of escalating costs.
Once parents realise schools are providing breakfast, more will take advantage of it. It will also not be long before parents at higher-decile schools start complaining about being left out. Food in schools could easily come to be seen as an entitlement for all pupils, however needy. Cost rises are also likely to be driven by nutritional watchdogs demanding that more is included in the meals.
The Government's approach is not totally ideal, however. Optimum results will be achieved only when the programme is placed in the hands of those best placed to know who really needs help and able to balance the need for food in schools against other needs. Such people are found, inarguably, at the local level.
In Northland, the Te Aupouri Maori Trust Board's social services once took on this role by using part of its grant to provide lunches. This practice ceased, unfortunately, when it was told this was not part of its contract. But no such difficulties would be associated with the most logical candidate, school boards of trustees. They could balance the need for food against other educational requirements.
The Prime Minister is right to suggest this programme is not the ultimate answer to children arriving at school hungry. That lies in lifting families out of welfare dependency and upskilling parents so they can get better-paid work.
But right now food needs to be provided to ensure every child has the opportunity to do as well as they can at school. Up to now, community efforts have been commendable but too piecemeal. The Government's response is a step forward while limiting its own exposure. Ultimately it will be better to place the programme with those who know and understand the problem best.
Debate on this article is now closed.