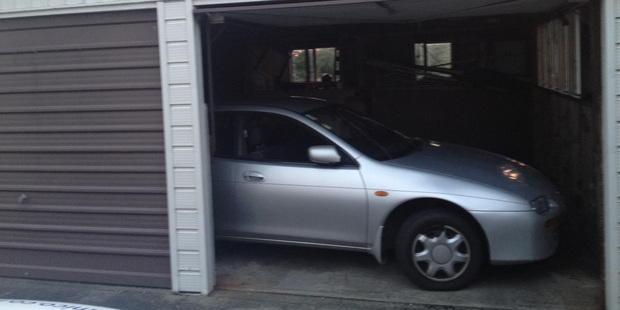 Tight squeeze
"This is a photo of my mother's effort at turning her car around inside her garage yesterday," writes a reader. "After putting her car away on the left side of the garage the night before, she then couldn't open that door the next morning. So she tried to turn the car around to drive out the right side. This is where she ended up."
Say what you really mean
Office jargon translation - don't get caught using lame words.
1. "Reach out" - Call, email or meet
2. "Touch base" - Contact; see above
3. "It's on my radar" - I'm aware
4. "Flag up" - Make aware of
5. "Low-hanging fruit" - An easily achievable goal
6. "It's a win-win situation" - It's a good idea
7. "It's a no-brainer" - See above
8. "Best practice" - A good way of doing something
9. "I'll ping you an agenda" - I'll email you with what's happening
10. "Take it to the next level" - Improve (alternatively, avoid dealing with abstract "levels" altogether and give your colleagues a tangible goal).
Striking while the iron (and everything else) is still hot
The best time for freelance insurance adjusters, restoration workers and other contractors in the United States to make sales pitches, apparently, is while firefighters are still on-scene fighting the fire - because if they don't, competitors will get the business. "They are very aggressive," said a fire lieutenant, nodding to the salesmen's use of police scanners to beat them to the fires. Florida used to have a 48-hour keep-away rule to let the bereaved settle in, but the state Supreme Court said that violated free speech. (Source: Weird Universe)
Self-help titles with Kiwi-fied twist on Twitter
1. Men Are From Matamata, There Are No Women
2. Eat, Burp, Fart
3. She'll be Right, You'll be Right
4. The Power of Positive Drinking, Bro
5. How to Win Mates and Influence Fullas
6. The Seven Hobbits of Highly Effective People
7. Jonathan Livingston Kakapo
8. The National Cycleway Less Travelled
9. Feel the Fear and Do It Anyway (A Guide to dating in Masterton)
10. It's Not Me it's Youse (#kiwiselfhelptitles) Summer in Christchurch requires a hot water bottle, according to this local Countdown supermarket.
Picture this #1: The kid's lingo in 1940s...
Fashion: Jaws togs ...
Vintage: This series of photographs, scrolling left to right between two pictures of people when they were young and when they are old, is mesmerizing...
Picture this #2: Evil onion...
Video: Frontrunner for the worst music video (and song) ever.
* Got a Sideswipe? Send your pictures, links and anecdotes to Ana here.