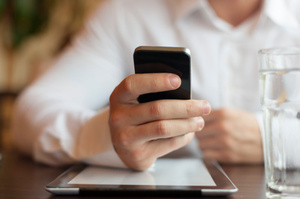 In just a few days time we will know what Apple has been hiding up its bountiful sleeve. To me, the rumours point to two major categories: things we can reasonably expect, and things that are pretty fanciful (which is not to say impossible, since Apple has surprised before).
The World Wide Developers' Conference always gets Apple watchers in a fizz.
People even analyse the year's WWDC logo in attempts to divine ... anything at all. All I get from it is that it's the 2013 WWDC logo, but there you go - I don't like tea and can't read tea leaves (or chicken entrails, for that matter).
I am also in a fizz about WWDC, however - I certainly won't buy anything with an Apple logo on it until after the 11th June, our time.
Let's start with the fanciful category. There has been so much speculation about Apple producing a watch that competitors started producing their own.
This says a lot about Apple's market sway than anything else - that an actual, unproved rumour can be taken so seriously that other companies put R and D, then production resources, into producing a competitor to a device that has not been announced and does not commercially exist ... and may not exist at all.
That said, as I wrote a few weeks ago here, I don't think an iWatch is impossible. I just think it will be an iPod in a new form.
Anyway, rumours took a new turn with reports from the Economic Daily News of Taiwan claiming Apple was testing 1.5-inch OLED panels for an 'iWatch'. Apple doesn't like OLEDs, but these touchscreens are manufactured by RiTdisplay of Taiwan using glass with touch sensors baked in, instead of a separate multitouch layer. This would help keep a possible iWatch thin while maximising internal space for the battery. Another rumour says Apple has received trial orders of evaluation units - but neither rumour points at a release of a device in the near future, certainly not in time for WWDC 10th June (11th, our time).
Apple doesn't make cheap devices. Not to buy, anyway - the cheapest Mac is the tiny mini but even that will set you back NZ$949, and that's without a screen or even a mouse and keyboard. (It does, however, do what every Mac can do, and comes with all the Apple software including iMovie and GarageBand - it's designed to migrate into existing PC systems, converting you from a PC desktop to an Apple desktop.)
Anyway, point is, Apple rarely releases a cheap version of something it's already marketing for a good profit. And when people first started talking about Apple building a 'cheap', plastic-case iPhone, I put this into the wishful thinking category. But even Apple seems conflicted, these days, with Senior Vice President of Worldwide Marketing Phil Schiller saying in January that Apple's focus will never be on low cost handsets, but then in February Apple CEO Tim Cook said "we are making moves to make things more affordable".
If this happened, and please note I don't know anything, I'm not confirming anything and these are still all rumours - the Wall Street Journal reckoned Apple was looking to clad a budget iPhone in polycarbonate, instead of aluminium, to keep costs down. This would be retrogressive, since Apple bowed to environmental pressure to get rid of poly as much as possible and moved almost everything to more recyclable aluminium. A 'cheap' iPhone might not have a Retina display, either. TechRadar has a roundup of where things are with budget iPhone rumours.
An iPhone 5s or even a 6 is still possible, as is an iPad mini 2. More fanciful is iDevices with thumb recognition, near field communication and other such space age features. I think these are hardly must-have features, though some might differ.
In the more likely category, it's no secret that Apple's ace hardware designer Jonathan Ives has been working on iOS 7. This could be an improvement. I don't have any real beef with iOS 6 (and I notice the Pentagon has now approved its security features), except that finding some settings is way too difficult, Safari should have a unified URL-search bar like it does on the Mac, and moving files around to and from iDevices is just simply too much work to make it in the least bit pleasurable. Those things aside, there are plenty of things that could be done to change the way iOS looks and works - the challenge would be to retain usability with that massive installed base of existing apps.
However, certain things lead me to suspect an iPad 5 is a possibility.
Mac OS X is fairly up-to-date, so no major changes expected there, but a new Mac Pro tower, although desperately lusted-after by Mac using professionals, has stopped generating rumours. That's not a positive sign. If Apple doesn't do something in this space, this small but very significant pro group is going to feel even more disenfranchised. Mac using professionals are loud, powerful and their opinions are important. I do hope Apple at least makes an announcement about a new Mac Pro.
I wasn't expecting a new MacBook Air, but a new chip is available to run it. The next-generation Intel Haswell Processor generates less heat, consumes less power and allows more (up to 2x) battery life. The chips also have a new integrated graphics processor claiming up to 50 per cent better performance.
Considering stocks of the 13-inch MacBook Air have become constrained, that's looking like an almost dead cert, so wait before buying one - you'll either get a much better one for the same-ish price after the 11th June or you might discover an 'old' one at a discount as shops clear their stocks.
However, Apple does have some Mac software that's due a considerable refresh - iWork, especially. This is Apple's Office-like suite, although you can buy the components Keynote, Numbers and Pages separately for just $25 each, respectively for presenting, spreadsheets and word processing. There are also excellent iOS versions of each for $15 each.
iWork 2014 would conceivably be a reboot, and it's anticipated eagerly. (By me, anyway - I use it a lot, on both iPad and Mac.)
iPhoto has become bloated, and could be overhauled. Musically, there have been rumours of an Apple radio (streaming music) service, and it's true iTunes Match needs a rethink: Apple sells iTunes Match as a yearly subscription but once you get past the first year, how do you justify shelling out again since all copies of the DRM-free AAC iTunes Store versions of tracks that have already been downloaded onto any device can be kept on iOS devices or computers?


But what do you hope for and/or expect from WWDC announcements?