Real-time offerings can be fun but too often veer into foolishness.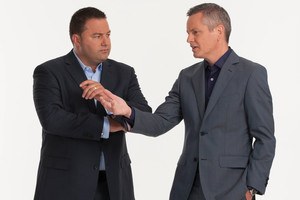 What is it that makes television so excited when it's broadcasting live to the nation? I've watched two shows in the last week that made much ado about not having been prepared earlier, but did it make them better?
Nah.
Last Wednesday night on TV3, 3rd Degree co-hosts Duncan Garner and Guyon Espiner were absolutely fizzing about being "live" with their once-a-month special The Vote in front of a "live" studio audience, while the viewers could, of course, vote "live" on the issue being argued.
The Vote follows a format that's part debate, part courtroom drama with the audience playing jury. Garner and Espiner, the Everly Brothers of current affairs, handle prosecution and defence with the aid of opposing panels of experts, while lawyer Linda Clark poses rather gleefully as a bossy adjudicator.
It's all a bit of fun as slightly informed entertainment, but total nonsense as current affairs. Last week's argument was over whether our second-favourite drug, cannabis, should be decriminalised, though the issue was muddled by giving the illegal natural and the currently legal synthetic varieties equal status in a sometimes hysterical debate.
Most of the hysteria came from Timaru Mayor Janie Annear, foaming against decriminalisation on Garner's team, who ended on the losing end.
The vote was 70 per cent in favour of decriminalisation, which seemed to leave Garner, in particular, feeling they had a fait accompli on their hands, demanding - on a live link to Associate Health Minister Peter Dunne - that the people be heard and the law changed.
Fat chance, said Dunne, looking grumpy at all this TV foolishness and, for once, I agreed with him.
Just how many people text and tweet their votes in is never revealed, but perhaps not as many as before with ratings apparently fading.
The much-heralded live approach makes this show occasionally blustering and foolish. Filmed longer and cut shorter, it might shine more. The real reason for being live is all the texting - at a bargain 20c a pop.
The other live show I caught up on runs by the text vote too - but at an outrageous dollar a vote. The X Factor NZ also shouts the loudest about being a live show, though a good proportion isn't live at all.
It's recaps and bits of back-story about the performers, who I'm beginning to feel sorry for as they're encouraged by their mentor judges to sing inappropriate songs, while wearing inappropriate clothes in inappropriate settings.
Meanwhile, the judges seem increasingly ridiculous, but perhaps that's the show's intent. Why else should we have to suffer Daniel Bedingfield who often appears on the verge of a nervous meltdown, dithering and daggering, eyes watering?
The show's other import, old pop boiler Melanie Blatt, sneered her way through the selection of Kiwi classics on Sunday night and, even in praiseworthy mode, she has a way of looking like she barely means it.
On the other hand, Stan Walker and Ruby Frost, the local star judges, strive to be nice with limited vocabs, which is testing in a different way after so many shows and with so many to go.
It's currently taking Sunday and Monday nights, totalling around three-and-a-half hours of "live" TV, to eliminate just one contender. There are now 11 left.
Will the fun never stop?