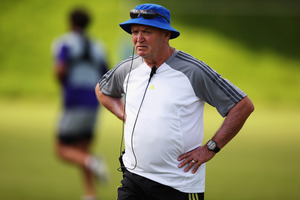 If Sanzar fine Sir Graham Henry for misconduct, they'll make a proper ass of themselves.
What he said wasn't so bad. All right, the use of the word "blind" wasn't as polite as he's ever been - but look at the crowds in the stadiums and those at home watching on TV. They're all gobbing off about the ref, linesmen and TMO. How come the coach can't speak his mind?
There is too much protection of referees. Fair enough, we have to have some rules and limits. That's beyond dispute. But referees and TMOs are paid to do a job. First off, they shouldn't get it wrong - they are being paid to get it right. But, if they do get it wrong, how come they are protected from criticism?
The players, coaches, franchises and NZRU can be criticised but not the refs. It's been like that for too long.
For my money, there is too much interpretation coming into it. One incident Henry complained about involved the ball possibly travelling forward. But when I heard Lyndon Bray, head of Sanzar refs, he seemed to be ushering in a whole new interpretation of a forward pass.
I even saw it in a club game at the level I am involved in coaching. Our loosehead prop was basically being put in a headlock by the opposition prop. When I took it up with the ref after the match, he told me he saw things a different way.
You should referee to the letter of the law, I told him. If that prop pulls that headlock stuff and the scrum goes down, our loosehead would have hurt his neck - and the blame would have been laid at the feet of that ref.
That's what I mean - too much interpretation and not enough respect for the law which, in the case of scrums, is often designed for the sake of safety.
Back to Henry - Sanzar will look daft if they fine him tonight. Will they also fine Brumbies coach Jake White? If not, why not? White agreed with Henry.
There's also the aspect that coaches going off at refs performs a useful function. First, it helps market and promote the game. A bit of controversy is good for audiences, as football discovered ages ago. Second, it keeps refs on their toes far better than keeping them in cotton wool.
Henry was perfectly entitled to say what he thought. How stupid is it that the guys on the couch can comment on the controversial moments of the match but not the people who are at the centre of things?
However, I do differ with Henry on his comments that Crusaders prop Wyatt Crockett "got away with murder". The front row is the only part of the game where a player is legally entitled to attack his opposite number physically. So if Crockett got in amongst the opposing prop and hooker and upset them and the opposing coach - and didn't get penalised for it - I'd say he is doing his job. Rather well.