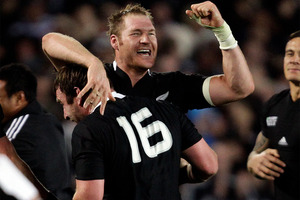 Timing hasn't previously been a strong point for Ali Williams, but his decision today to retire from test rugby is indisputably perfect.

Kudos to him for being proactive in going out on his terms. So often portrayed as the clown prince, Williams has pulled off one of the hardest gigs in the game - getting out of the test arena with his legacy and reputation intact.
His knee is bung. His body is creaking - the athleticism and elasticity that enabled him to reach the top echelon of international locks between 2005 and 2008 has gone.
Everyone, Williams admirers and haters, could see in the last few weeks that, after a promising start to the season, he was fading. Scott Higginbotham brushed him off much like he might be the remnants of an unwanted sandwich.
Against the Crusaders last week, Sam Whitelock had ownership of Williams. Any lingering hopes Williams may still have had about his test aspirations surely evaporated in Christchurch. Not only was Whitelock rampaging everywhere Williams wasn't, so too was Luke Romano and then Dominic Bird came off the bench to drive in the last nail.
It was perhaps a little cruel to then bring Williams into the All Black training camp the next day to provide him with yet another opportunity to see that New Zealand rugby is full of younger, fitter, better locks than him.
However obvious it may have been that time was up, it still took courage to make the call to walk away; it still took humility and good judgement to see that it was better to get out now on a voluntary basis rather than leave it a few weeks and shift the emphasis to an enforced departure. Williams owed that much to himself.
His various off-field antics over the years have divided opinion. For a minority, he's been a refreshing point of difference - a blast colour in a world of grey. For the majority, it seems, he's been a hard act to like - a David Brent figure, strangely convincing himself of his comedic genius while others watch on and cringe.
But those on both sides of the divide can presumably find common ground on Williams the player. He destroyed the Lions in the first test in 2005. He was the only man in silver who held up in the 2007 World Cup quarter-final and in 2008 he wasn't so much better than Victor Matfield and Bakkies Botha, but a kind of hybrid those two couldn't subdue.
He had four seasons - 2005-2008 - when he was world class: a towering force who could sit alongside the likes of Andy Haden, Ian Jones, Gary Whetton and, yes, even Colin Meads. Williams, in that period, was that good.
The shame is that serious injury in 2009 that repeated in 2010 has distorted the picture. It's easier to conjure images of Williams not quite imposing post-injury than it is to remember him dominating some of the best locks in world rugby before his Achilles and various other bits gave up the ghost.
But however much some may never have warmed to Williams, that's not reason to forget his excellence or contribution. That's not reason to invalidate what he achieved.