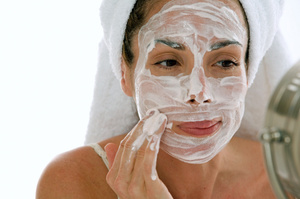 I used to use only fancy face creams from department stores but these days I mix it up with supermarket brands such as Nivea and Olay. So one afternoon in early March I purchased two L'Oréal products: a Revitalift eye cream and Revitalift Total Repair 10 BB cream which came in a container that said it "[f]ights 10 signs of ageing".
Looking forward to reduced wrinkles and firmer skin, I liberally slathered the cream all over my face and ignored the tingling sensation that started almost immediately. Before bed I used the eye cream too. I could feel my face burning through the night and my first thought on waking in the morning was: "Why can't I see properly? What on earth is obstructing my vision?"
I rushed to the mirror and discovered my cheeks had swollen so much that they were partially covering my eyes which were mere slits in a face that now resembled a pumpkin.
I knew immediately it was due to the new face creams and, to be fair, they had reduced the wrinkles. My face was so swollen there wasn't a single line on it. Only when I tried to smile (or grimace) did two deep horizontal channels radiate outwards from my eyes. My crow's feet and laughter lines had been erased.
And my skin was certainly firmer. Red and swollen, it was stretched as tight as a drum. I saw my GP at 10am. He prescribed six prednisone tablets and a hydrocortisone cream - and asked for the name of the products that had so disfigured me.
A Google search revealed that this particular skincare range had affected others in a similar way. One comment at Warning about L'Oreal skin care products, which listed Revitalift as one of the offending items said: "I broke out in a horrible painful rash with raised red bumps and burned skin." Someone at Total Beauty, who said she'd had swelling and redness, was still experiencing symptoms six months after using the product. There were other tales of rashes including one from a user who said: "I would have been better off using a Brillo pad."
Another website catalogues further woes associated with this range. One woman wrote: "I used Revitalift Day and had a severe allergic reaction. I had to go to hospital." Another said: "I used L'Oreal Revitalift Deep-Set Wrinkle Repair ... and ... my face swelled up like a balloon and my eyes are almost swollen shut."
A friend who saw me the following day (once the steroids had kicked in and the swelling reduced slightly) said I looked as if I'd "had work done". She added that she'd used the same products without adverse reaction. On the third day the swelling and redness had virtually disappeared but my face was still wrinkleless and had a firmer, younger appearance than usual.
I was amazed at that, and for a fleeting, ridiculous moment (that demonstrated the degree to which I've assimilated the values held dear by our vain, youth-obsessed culture) I considered the practicality of using the product for special occasions. I mapped out the steps in my head. I would source the prescriptions ahead of time, apply the face creams, take the tablets, apply the hydrocortisone, hide until the swelling and redness subsided - then show off my (temporarily) fresh, smooth skin.
So how I could have avoided the situation? Should we do an internet search for chatter about adverse reactions before trying new products? Should we do a patch test before using face creams? Or should we simply avoid these miracle lotions that promise to take years off us?
All I know for certain is that L'Oréal's Revitalift range does fight signs of ageing, reduce wrinkles and firm skin. But for me (and, evidently, some others) medical intervention was subsequently required. We may have been "worth it" but we surely didn't deserve that outcome.


Do you have a skin cream horror story to share?