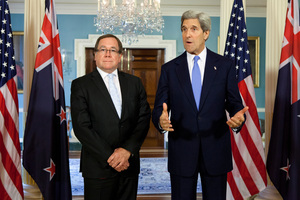 Yesterday's meeting between Murray McCully and John Kerry in Washington DC was a sign that things between the US and New Zealand have moved to a new plane.
Their meeting was not only not dominated by talk about the relationship, it was not even dominated by talk about the Pacific.
It was about areas in which New Zealand could play a constructive role as an international citizen - and it could be seen as an investment in the future relationship.
As McCully noted in his speech a few hours earlier to the US NZ Pacific Partnership Forum: "Unlike some previous occasions, I do not intend to talk at length about the relationship. Just as couples tend to spend a good deal of time talking about their relationship when they have issues, I do not intend to do so, because we do not have issues."
Hence McCully arrived at his first meeting with the new Secretary of State with support for the thing that clearly matters most to him at present, the possibility of a two-state solution in the Middle East.
New Zealand stands willing to receive requests for development assistance for Palestine and help in securing any buffer zone in any peace deal that is achieved.
McCully is also talking to like-minded counterparts in Asia and Europe to drum up similar offers.
It is highly plausible that the idea emanated from the US itself. That doesn't make it bad. There are few interests that are not served by peace in the Middle East.
A solution is not close, but the offer of countries such as New Zealand can only make the possibility of achieving a solution more likely, not less likely.
New Zealand is back on very, very co-operative terms with the United States and the risk is that is seen to be doing the US' bidding.
But New Zealand deviated from its closest friends, including the US and voted at the United Nations in favour of the Palestinian statehood motion.
More than anything in recent years, it reinforced the perception of New Zealand operating an independent foreign policy.
Whether the support offered is ever taken up remains to be seen. What is certain is that New Zealand made a strong impression with the new Secretary.