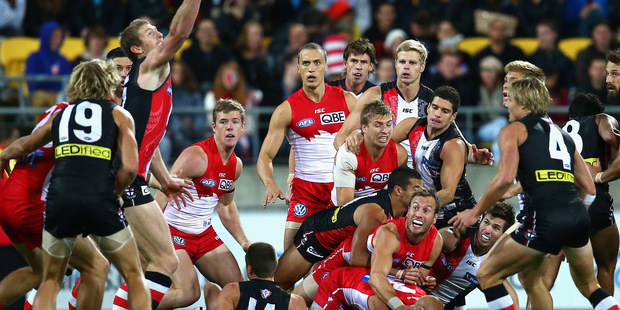 Freeview sports channel Sommet Sports has a soft launch today on channel 14, offering a hint of competition for sports viewers.
But it will be a long time before it scratches Sky Sports' dominance, let alone makes a dent.
Sports fans would love a free- to-air alternative to Sky, but Sommet spokesman Andrew Reeves said the channel would not be trying to compete on mass-appeal sports with Sky, which was "in a different league".
Programming on the Freeview channel 14 includes sports magazine shows and a package of AFL (Aussie rules) highlights.
Sky TV is increasingly playing hard ball when bidding for rights, to the point it risked losing the NRL.
Eventually its brinksmanship with its bid paid off and it saved millions, but it has also made it clear the bottom line will supersede any vague obligation to keep customers happy.
Motorcycle racing fans were furious when Sky opted out of bidding for the MotoGP competition, arguing that it did not have a mass following.
Meanwhile, Igloo TV general manager David Joyce has corrected what he said was a misapprehension that Igloo would block free Sommet broadcasts from its pay TV platform.
Other free channels are available on Igloo so consumers don't need a second set top box.
A note on Igloo's Facebook page raised eyebrows suggesting Igloo - 51 per cent owned by Sky TV - tried to block the newcomer.
Joyce said Igloo was not opposed to it.
Reeves said the lack of an electronic programme guide on Igloo was one issue for Sommet.
Good neighbours
Labour broadcasting spokeswoman Clare Curran is concerned about the forced sale of TVNZ land to SkyCity for the Auckland convention centre.
She suggests the government will have negotiated a price for the land and says it fits with the highly opaque handling of the convention centre deal.
The Government insists the land will be sold at commercial rates, allowing for the inconvenience of renovating the network centre to squeeze in studios knocked down for the convention centre.
After all the back-slapping, it would be surprising if TVNZ were able to hold out for a top price to meet SkyCity's need for the land. The casino and the state broadcaster are neighbours in the Auckland central business district.
This time last year, TVNZ was fiercely resistant to the sale, saying it would cause major disruption.
Nowadays, sources say TVNZ is prepared for the worst. The tightened space will increase speculation that TVNZ will look at abandoning its central-city site altogether, a TVNZ source said.
Indeed, TVNZ chief executive Kevin Kenrick has been heard wondering aloud why TVNZ is on prime inner-city land when they could be at cheaper locations further out of town.
It's common knowledge the TVNZ network centre on the corner of Hobson St and Victoria St West - with its wide cascading stairway across five levels - was designed by architects to be easily converted into a shopping mall. You wonder why they don't just turn the network centre into a casino.
Just looking
Former Wilson & Horton managing director Michael Horton has talked down speculation he is interested in the New Zealand assets owned by APN News & Media, publisher of the New Zealand Herald.
Last Saturday, business commentator Brian Gaynor floated the idea for a local purchase of APN's New Zealand assets, and noted that Horton recently attended the annual meeting of APN in Sydney.
APN faces changes at the top with the resignation of chief executive Brett Chenoweth and four directors after a dispute with key investors about a capital raising.
The company also recently had Deutsche Bank review its New Zealand publishing assets, which led to its sale of the Christchurch Star and Oamaru Mail.
Other assets were untouched, adding to speculation about the Herald.
Horton - who has a home in Queensland - said he bought "a few"APN shares so he could attend the AGM in Sydney, but he only went out of interest.
APN recently announced a new chief executive to replace Chenoweth.
Michael Miller is currently New South Wales regional director for Rupert Murdoch's News Ltd.
For the past decade, Miller has been a Murdoch representative on the board of Sky TV, until the Murdoch company sold its stake in Sky in March.
He starts at APN in the middle of next month.