Alan Perrott looks forward to some long-overdue self-indulgence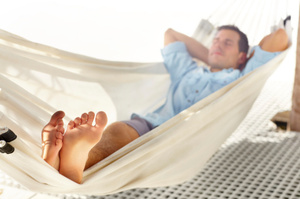 It's Christmas, my birthday, and the day I won 50 bucks on a scratchy all rolled into one.
And there isn't a bow in the world big enough to wrap it.
I'm going to have three-and-a-half days all to myself.
Yeah, I know. I'd squeal, but puberty kind of made that impossible.
And, to be clear, when I say "all to myself" there will be the odd occasion when there will be other people around, but - and it's a bloody great, big, enormous "but" - they'll be there at my invitation, not courtesy of the fact that they live with me or kind of belong to me via paternity. Let's just call these invitees "mates" and be done with it.
You see, I'm having a mancation.
The whole idea was terribly de rigueur a few years back when the concept laid the seeds for the Hangover movies.
We used to do them all the time when I was a much stupider man. Once school was out we'd bail into the most roadworthy car we could conjure and head up or down the line in search of ...
well, not ourselves anyway. No passing of the talking stick, big boy's drum or sweat lodge here. Peter Fonda put it best when he paraphrased: "We want to be free ... to do what we want to do ... and we want to get loaded ... and we want to have a good time ... and that's what we're going to do."
Yeah man.
But it's not that simple any more because the mancation police have decreed that any such activities can only be indulged in in groups. Which is more of a mencation, surely?
Anyway this has been a short notice thing, so rules be damned, I'm having a mencation, which looks vaguely medicinal and clearly has to be good for something.
Which has got me thinking, why do we frown so on solo indulgences? No sniggering.
About the only place we've got left for perfectly acceptable me time is the dunny.
Even showers come extra big-sized now. Experiences don't seem to be real anymore unless they're shared, if only so there's someone handy to take photos.
Going it alone these days makes people think you're plotting something. Who would've thought my one-man good times could fall foul of the war on terror?
But I like dancing on my own, not in my Y-fronts of course. I'll be fully clothed, if only because at my vintage I don't want to risk catching my death and getting my groove on doesn't get quite as sweaty as it once did.
And I want to do it to some honking jazz. Really loud, honking, all over the shop, jazz.
The missus, and most of the world it seems, hate it. So, this will be simply a time for indulging myself to the point of aversion therapy so that I get all better and won't require a booster shot for a wee while at least.
German schlager music? Hell, yeah. Steak, egg and chip butties for breakfast? Why not.
The X Factor? Over my dead body. Not when I've got Sly's The Expendables recorded on the Freeview wotsit. And that's just for starters. I can do what I want in the hours from morning to the next morning without a poo-pant, grazed knee or dribbly nose to distract me.
The other point I like to reach is boredom. I seldom find the time to be truly, luxuriously bored and I'm a little concerned that I've forgotten how to engender the feeling. I think it's going to take a fair degree of slothful yakka to rediscover the 1000-yard stare of my teens. I'd have started training already but I can't afford to succeed until the house is empty.
So, be honest. If you've got this far you must be wanting one too ... really, really badly.
This is the exact moment when "want" and "need" merge. And that's what's got me worried. I get to watch a lot of Kipper kids' cartoons, see. The other day I was sitting there, half aware of Kipper's goody-goody blitherings as my littlest boy handed me cars and the bigger one cried to get them back, when the cartoon dog said something that's still rattling my cage: "What's better, Christmas when you get your presents or Christmas Eve when you're still expecting your presents?"
The thing that has me worried is whether my mencation happiness right this minute is as good as it's going to get, or whether that will come sometime during the event itself?
I don't think I could handle the comedown if it's the former.
And I'd definitely need some time out to get over it ...