The Aaron Gilmores of this world would never have lasted the race under gut-wrenching FPP process.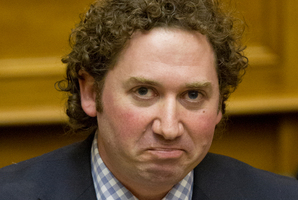 The sorry saga of the hapless Aaron Gilmore highlights the weaknesses of the MMP system in picking our parliamentary representatives.
Under the old, first past the post selection procedures, the Aarons of this world would have been weeded out very quickly; he just wouldn't have lasted the race. Somewhere along the line his mendacity, his huge capacity to exaggerate, his fantasyland personality, his arrogance or his over-imbibing would have shot him through his own political foot.
He would have been an "also ran" and the political world would have been spared the last few weeks of shame.
Under that old system, rather than being plucked out of the Forest and Bird Society or Save the Whales, and before you made your maiden speech in the House of Representatives, you'd have gone through the cauldron. That would include selection to a winnable seat and then an election campaign on the hustings - not a process for the faint-hearted.
At the tender age of 37 I did both. I was a surprise selection winner of the reasonably safe new seat of Manawatu. After four votes, the 300 or so party delegates gave me the nod. My wife succinctly summed it up when she said to me "now what have you done?" She knew, of course; I had just dropped our family income by half to start on $13,000 a year as a back bencher. This was about twice the average wage of the day in 1978. The present back bencher's salary is about four times the average income.
For me the hardest adjustment was one I hadn't envisaged. I was a partner in a small chartered accountancy practice; a professional man. People came to ask my advice and paid well for that privilege. I would do that in the mornings to keep the cash flow moving and in the afternoon I reversed my role by taking to the streets and asking strangers for their vote. This started a long campaign of knocking on doors and some reactions to that were alarming, some amusing and all removed much of the hubris I'd accumulated over the years - it knocked my corners off!
One belligerent man responded, when I asked him if he had any questions, "Yes, what has four legs and an arm?" I didn't know. "My dog when it catches you!" I beat a hasty retreat. Another chap told me I was wasting my time on his door step as he'd voted Labour all his life and wasn't about to change. "It's all right, Michael," a woman's voice called out from the back room, "I cancel him out!" I rapidly removed myself from that pending domestic.
Another lady was middle-aged and obviously not long out of her shower when she opened her door. "I'm the National Party candidate and just wanted to introduce myself," I said. She unfurled her bathrobe, exposing a substantial super structure and said, "Would you vote for dem puppies?" Another tactical retreat, accompanied by raucous and outrageous laughter from behind the door. That year I knocked on more than 5000 doors in the Manawatu, averaging 20 an hour. Years later people still approach me and say, "you must remember me, you knocked on my door once."
All that, sometimes a gut-wrenching process, happened at the same time as attending over 30 public meetings with the other party candidates, defending what was being done in Wellington by my soon-to-be political colleagues. My Labour opponent was a lawyer named Trevor De Cleene, a likeable rogue who campaigned with the slogan "Vote for the man" implying "not for the party", which he sometimes found difficult to support. He, a seasoned courtroom brawler, was hard to combat by someone not that confident on his own feet. We eventually became friends and I sadly attended his funeral some years ago at a pub in Tauranga. He didn't change; cirrhosis of the liver took its toll.
Back then, I won, just. I was called down to Wellington to meet my leader and Prime Minister, one Rob Muldoon. I asked him what he felt about having an Englishman in his caucus. "The best one's a dead one," he told me without a blink of his eye. The basis of our 10-year relationship was settled at that moment.
After a tumultuous year getting into Parliament, I was a different man from that person who had emerged from his professional offices on that first day of door knocking. Aaron missed all that.
Michael Cox is a former National MP.