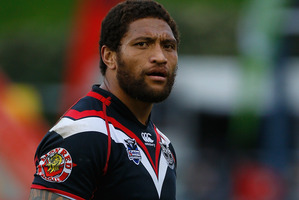 I don't know how much money was offered to secure the signature of Manu Vatuvei for the Warriors, but I question if it's worth the price tag.
The sum was reported as significant to retain him even though substantial amounts for a winger is questionable. The view of coach Matt Elliot is that he does not want Vatuvei maintaining his battering ram status. Well, what did he sign him for? Surely if Vatuvei's name sends shivers down the spine of most players and opposing coaches, why would you change that perception?
In recent seasons Vatuvei has not displayed the form that made him the destructive player we know he can be. Injury has kept him sidelined and limited the consecutive games necessary to build consistency. It is more than likely this scenario will happen more often with the years.
We see Vatuvei now as a try scorer on the back of kicks and where an overlap allows easy passage to the line. Do you need to be paying top dollar to a winger if that is his speciality? Most wingers worth their salt can finish off those movements.
So, is it worth tying up huge sums in a player to do that if he doesn't offer much else?
He must be incorporated into the play to extract more value while on the field and let's face it, his strength is his running capabilities.
Large portions of your salary cap must be paid to the players who are continuously in the play and who are instrumental in progressing the team into attacking positions; hence the halves, hooker and fullback are such valued commodities.
Next in line of importance are prop forwards to provide go-forward for the spine to work effectively. Ball-playing second rowers and centres are on a similar level, followed by the wingers.
We have seen many occasions where players have been sent to the wing for introduction to the NRL or hide them from confrontation if they are injured. Should this be the position where one of your highest paid players is accommodated?
There is a good argument that Vatuvei has marketing value and iconic status with the fans and sponsors. That value should not be underestimated. He stands as a player to whom cultural demographics can link and he can inspire others to follow.
However, a contract extending a further two seasons at the Warriors will see him move to the UK Super League or a possible move to Japanese rugby. The latter would be a high risk move by any Japanese club - signing a player so late in his career when he needs to learn a new style of play. It took Sonny Bill Williams two full seasons to understand the idiosyncrasies of rugby union. How long for Vatuvei if he switched?
Could money have been better spent by the Warriors to secure a top quality centre, quality halfback/five eighth and a ball playing back rower, rather than on a winger?