Benefits of this drink are outweighed by overdose of sweetness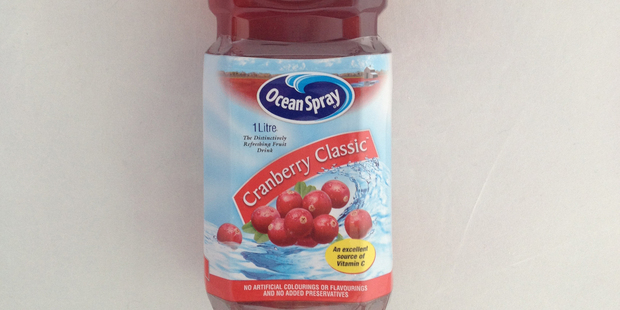 When I reviewed Super Juice and found it had more sugar in it then Coca Cola, the reaction was one of shock as people absorbed the knowledge that something we always thought was healthy - fruit juice - can contain such a mother lode of sugar.
With Ocean Spray Cranberry Classic, I think I may have found the mother of all mother lodes on our supermarket shelves with 7.14 teaspoons of sugar per 250ml serving - more than Coke and about the same as a Mars bar, which has 7.28 teaspoons of sugar.
Cranberries are big business in the US, and Ocean Spray is one of the biggest producers of cranberry drinks.

Ingredients
• Water - Cranberry juice on its own tastes bitter and sour, much like lime or lemon juice, so it has to be watered down.
• Cranberry juice (from concentrate) - Cranberry juice is very tart so it would be quite unpalatable without the addition of sugar. It is also a popular home remedy for cystitis (urinary tract infections). This drink contains 25 per cent cranberry juice.
• Sugar - There are 30g of sugar per 250ml serving of this fruit drink. That is 7.14 teaspoons (4.2g of sugar equals one teaspoon). Coke has 6.4 teaspoons per 250ml, and Super Juice 6.8 teaspoons per 250ml.
• Vitamin C (ascorbic acid) - Added to help boost the vitamin C content of this drink. Each 250ml serving has 40mg of vitamin C, the recommended intake for an adult.

My recommendations
On the plus side there are no artificial colours or flavours in here, or preservatives. But I just can't imagine spooning just over seven teaspoons of sugar into a 250ml glass, adding water and then drinking it, so why would you drink this equivalent?
Sugar is increasingly being held accountable for rising obesity and diabetes rates in Western countries like ours. Yet producers of sugary drinks claim that the nutritional value and the fact that some of the sugar comes from fruit makes it okay.
It's not. It is believed too much energy from sugars raises insulin levels in the body too high, which causes the energy to be stored in fat cells.

Highlights
• More sugar than Coke and about the same as a Mars bar.
• No artificial colours or flavours or preservatives.
• Contains 25% cranberry juice.

Do you have a food product you would like to feature in Wendyl Wants to Know?
Email wendylwantstoknow@gmail.com with suggestions. Unfortunately, Wendyl cannot correspond with readers.