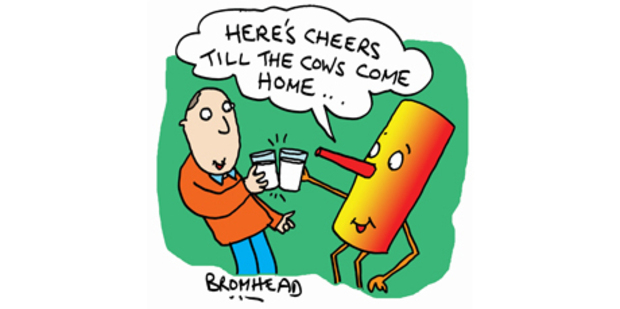 "Do you recall when milk came in glass bottles, with a generous cap of cream and wasn't hidden away in ugly plastic containers?" asked a friend wistfully, reminiscing about the good old days.
"I not only recollect glass milk bottles, but remember when the stuff was delivered via electric vans, so they didn't disturb still-sleeping Londoners," I replied.
Said my friend: "So, if we knew how to ecologically deliver milk and recycle glass back in the 1940s, how come 60 years later we appear to have lost the plot?
"Well," I replied, "you must understand that saving the planet and ecological buzz-talk hadn't been invented yet.
"In the 1940s we were still using medieval materials like glass, ceramics, hemp sacks, wood, cardboard and paper to wrap up everyday goods."
"So, how come such packaging didn't boldly state 'biodegradable' or 'organic,' emphasising its 'green' status?"
"As I suggested earlier," I said, "the world was still blissfully living in an age where 'biodegradable' and 'recycling' were taken for granted and nobody realised there were marketing opportunities to flaunt uppity ecological status by applying it to something as mundane as a brown paper shopping bag."
"I suppose we had to first invent non-biodegradable products like plastic to start turning us into a nation of ecological worrywarts," my friend gloomily responded.
"Exactly!" I agreed, adding: "Referring back to milk packaging, I note even the recycling companies have concerns about the recently introduced opaque milk containers being economically difficult to recycle."
"Call me old-fashioned," replied my friend, "but I like to see how much milk is left in the container. I don't give a toss about light supposedly destroying the taste.
"Cynics might suggest that the original creamy taste of full-bodied milk was long ago removed by the dairy companies anyway, as they subtly weaned us into believing that 'trim' and other euphemistically named products were better for us, leaving them with more scope to develop profitable byproducts from pure milk.
"Even bigger cynics might suggest that concealing the contents of your container is the first step in super-sizing your packaging to disguise the actual contents - like the breakfast cereal or toiletry manufacturers do so blatantly."
"What a horrible suggestion! I'm glad we old codgers don't think like that," my friend responded, shaking his head.
"That's because we were raised on unadulterated milk in clear glass bottles and had nothing but innocent thoughts in our heads," I murmured.