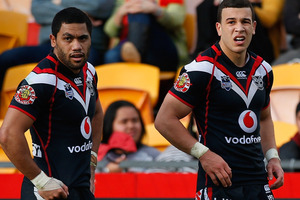 Justis Kamu looks at the benefits a loan system would provide for the NRL as well as the other key talking points following the latest round of matches.
1. Player exchanges would help strugglers

A player loan system would enhance the NRL's standing as the southern hemisphere's most exciting sporting competition.

This would be similar to the Super League dual registration format which has taken its template from the English Premier League (Soccer) loan system.

A loan system essentially involves a particular player being temporarily allowed to move to a rival NRL club for a short-term from his 'parent or home club'.

This would arm NRL clubs with a process to reinforce their squad with capable replacements for injuries or to fill gaps in the playing roster with quality personnel.

Also it gives the opportunity to move players who are over the age of 20 to rival teams to develop their skills and to gain valuable first grade experience.

A move for the implementation of such a system was evident in last weekend's round of the competition as a distinct gap in the standard of play between the top contenders and the competition strugglers is beginning to show.

The Wests Tigers, NZ Warriors and the Penrith Panthers would all fall into that first category as all three have had to recently patch up their starting sides because of considerable injury tolls to their squad.

The Parramatta Eels would be a club in the second category who are in need of a couple of tried and tested players at the first grade level to shore up their young team who have been 'embarrassing' recently.

The added effect of having a loan system is that it would ensure the competition's top players are still participating at this level of the game and aren't playing in club league or heading offshore mid-season.

If a player loan system were to be proposed a possible format could look like this:

* Clubs limited to receive a total of four players
* Clubs limited to release a total of four players
* Maximum player loan to last till seasons end
* Minimum player loan to last one month
* Loaned players will not be allowed to play 'parent or home club'
* Loan window to operate between rounds 9-12
* Player exchanges will only occur during these rounds

A list of eligible players for current loan: Shaun Berrigan (Raiders), Dimitri Pelo (Raiders), Dunamis Lui (Broncos), Alehana Mara (Warriors), Carlos Tuimavave (Warriors), Maurice Blair (Storm), Brett Finch (Storm), Clint Greenshields (Cowboys), Geoff Daniela (Panthers), Michael Crocker (Rabbitohs)
2. Warriors centres slip up against Storm
Jerome Ropati should be counting his blessings this week after his shaky performance in the 28-18 loss to the Melbourne Storm on Anzac Day.
Unlike fellow centre Konrad Hurrell who will turn out in the blue of the Auckland Vulcans this weekend, Ropati will start at centre for the NZ Warriors against the Gold Coast Titans at Mt Smart Stadium on Sunday.
Hurrell's demotion is the price he pays for his poor ball security adding to his tendency to switch off during games - brilliant one minute, average the next - he will be consigned to refining his skills in the second-tier competition.
Ropati's defensive capabilities have been missed by a team that has fielded a largely inexperienced backline and has the third worst defence in the competition.
He was up to the task for large parts of the game where he completed 21 tackles - a heap of work for a player in his first game back (he only played 11 games in 2012).
However he missed two key tackles on his opposite Will Chambers which both led to tries.
His rustiness and lack of pace was exposed on occassions that a player of his experience should've executed.
Ropati has had a knee reconstruction to recover from over the past 10 months and for his sake it is hoped that injury is behind him.
His contract with the Warriors expires at the season's end which could potentially mean his final campaign in Auckland.
If that were the case it would be huge loss for a club where their other centre options - Hurrell, Dane Nielson, Dominic Peyroux - have either struggled to settle in first grade or are recovering from injury.
3. Alex Elisala passes away
The passing away of young North Queensland Cowboys and Samoa International hooker Alex Elisala has devastated the league world this week.
Aged 20, the New Zealand born Elisala, was a popular member of the first grade squad and had scored a try for the club's feeder side the Mackay Cutters hours before his passing on Sunday.
This is the third death of an NRL player in 2013 with Johnny Mannah of the Cronulla Sharks, and Mosese Fotuaika of the Wests Tigers also passing away earlier this year.
Mannah was the most experienced of the three with 24 career games while Fotuaika like Samoan international Elisala had yet to make his first grade bow.
All three players were rising stars of the game with the younger pair showing their potential in the Holden Cup with the Tigers forward part of the team that won last season's title winning side and the Cowboys rake playing 69 games in the same grade.
Friends, family, the Cowboys organisation and the NRL community will all be feeling the Elisala's loss this week.
Whether you're a Cowboys fan or not, get behind North Queensland's finest this Saturday as they take the field in round eight to earn the two competition points and more importantly honour the life of their young teammate.
The North Queensland Cowboys play the Parramatta Eels at Parramatta Stadium Saturday to be screened on Sky Sports 2, 9.30pm.
4. Whose return will help their side the most?
Manu Vatuvei, James Graham, Simon Mannering or Marika Koroibete
Marika Korbete:
Arguably the fastest Fijian in the competition (which would probably make him the quickest player in the NRL) Koroibete's speed will help his side the most this weekend.
Why? Because the Tigers don't have much pace out wide with the likes of Lote Tuqiri, Chris Lawrence, Benji Marshall and Tim Moltzen all on the sidelines due to injuries.
Koroibete can turn small openings into clean breaks and is a big help to his forwards when he scoops out of dummy-half to begin sets.
Still an NRL rookie with just nine games in his career but with eight tries in that time he is a try-scoring threat from close or long range.
The Tigers backline of James Tedesco, Joel Reddy, Curtis Sironen, Jake Miller, Matthew Utai and Bodene Thompson are unproven as a unit and will likely struggle against the Bulldogs.
Although he's still raw, Kororibete's special quality and his unpredictability that comes with it will help the Tigers immensely if he is given even just a half chance to shift into overdrive.
The likes of James Graham, Simon Mannering and Manu Vatuvei are all experienced internationals who will be fantastic additions for their respective sides this weekend.
It's just that Koroibete will fill a void for a side that has a serious deficiency in an attribute that is largely God-given not taught - speed.
5. Your comments
From Tao
Sam Tomkins is overrated...I would rather the Warriors chase Brett Hodgson then that softie.
- Tomkins feats are well known to the league observers even on this side of the globe. He's proven himself to be a capable competitor at the international level and has been ripping up the Super League since he made his rookie season. At times he is a man amongst boys over there in the UK so his time to move down under is coming sooner rather than later.
At 35 years of age, Brett Hodgson is winding down his playing career. That's not to say that he wouldn't be able to foot it in the NRL because arguably he has been the premier fullback in the English Super League for the last two seasons. His performance in last year's Challenge Cup was sublime, scoring a try, kicking five conversions which saw him claim the Lance Todd Trophy which is awarded to the man of the match. He's a yard or two slower than he was in his West Tigers days but he still oozes class. Hodgson has recently been named captain for the Exiles to play England in the International Origin next month.
6. Team of the Week - round 8
1. Fullback - Darius Boyd (Knights)
2. Wing - David Simmonds (Panthers)
3. Centre - Dane Gagai (Knights)
4. Centre - Will Chambers (Storm)
5. Wing - Akuila Uate (Knights)
6. Five-eighth - Jonathan Thurston (cowboys)
7. Halfback - Luke Walsh (Panthers)
8. Prop - Matthew Scott (Cowboys)
9. Hooker - James Segeyaro (Panthers)
10. Prop - Tim Grant (Panthers)
11. Secondrow - Tariq Sims (Cowboys)
12. Secondrow - Nigel Plum (Panthers)
13. Lock - Corey Parker (Broncos)