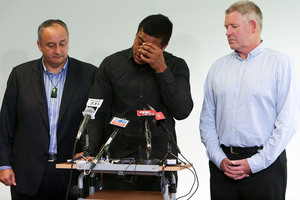 Commenting on rugby is not really in my purview (can't use that word without thinking of In the Loop: "Allow me to pop a jaunty little bonnet on your purview and ram it up your ..." oops, too explicit). Anyway, as I was saying, me writing about sport is a bit like getting Bob Jones to review the Venice Biennale. But anyway, my friends, here goes.
This week both TV channels led with stories about a rugby player called Julian Savea who was charged with common assault after an incident with his partner. Savea was one of the frontmen for the "It's not okay" campaign against family violence.
At a press conference, the head of the New Zealand Rugby Union, Steve Tew, said the union was having an independent inquiry into the way "it supports young players".
Last week, Herald sportswriter Dana Johannsen, a woman, criticised Savea's rugby colleagues for going easy on Savea. It was well put and I understand what Dana was saying.
But I don't think a blame game where either the rugby bosses or the players are being condemned or excused really scratches the surface of what is going on here.
The emotional problems of rugby players are a touchstone for the whole construct of manhood and what it means to be masculine in our culture. Maybe rather than the Rugby Union looking at how it treats its elite players, we all need to look at how we still make it "not okay" for men to show weakness and vulnerability.
It is those attitudes - be tough, be strong, don't show fear - that we should be addressing. They are the kind of beliefs which make it hard for men to recognise painful emotions, let alone express them or resolve them in constructive non-violent ways. And instead of pointing the finger at someone else, we need to look inside ourselves. And I mean you and me, sister.
The messages we send as mothers are creating young boys and then men who live under the unrelenting pressure of "don't be weak". My current crush, best-selling writer Brene Brown, held focus groups with men asking them about shame and vulnerability. They told her: "Showing fear is shameful. You can't be afraid - no matter what."
Men said they felt boxed in by the pressure to be strong, and not just from other men. From women. Brown's "inner ding" moment was when she realised how it is not tough-arsed coaches, bosses, brothers and fathers who build those boxes, but women just like her.
"I was driving home from an interview with a small group of men and thought 'Holy shit, I am the patriarchy.' Here's the painful pattern that emerged from my research with men: we ask them to be vulnerable, we beg them to let us in, and we plead with them to tell us when they're afraid, but the truth is that most women can't stomach it."
As one man told her: "My wife and daughters would rather see me die on top of my white horse than watch me fall off." Sisters, we need to look at whether we are making it okay for our men to be vulnerable; to get down off that horse and be real, frail, human. Or do we prefer them to be heroes?
On an unrelated subject, it is neat that on Anzac Day young people express their gratitude towards veterans of war and the noble values they seem to symbolise of sacrifice and selflessness. It's okay to be old on April 25.
But it would be extra neat if we saw more positive coverage and positive messages about older people during the other 364 days of the year. It may be only when you are dealing with the decline of your own parents, as I am, that you start to see the world through an elderly person's more rheumy eyes. The media are youth-obsessed.