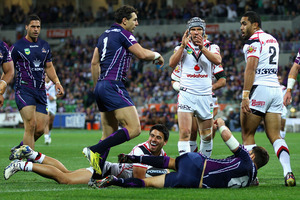 Another rollicking weekend of NRL football already has clubs reaching for their calculators - and not even the struggling Warriors are out of top eight possibilities.
In fact, the Warriors roared back on the weekend with a spectacular display of running rugby league that should have at least dispelled some of the negative sentiment piling up at the door of coach Matt Elliott.
Some of this renewed positive focus relates to the equation of 11/17 (the Warriors need to win at least 11 of the next 17 games to push them into the top eight play-offs).
Such was the energy and skill of the performance of the Warriors against premiership front-runners the Melbourne Storm that what seemed a lost season (and maybe more than just one season) was a real prospect. The Warriors' strike force, a combination of speed and unpredictability, seemed to have lost its edge and Elliott could be excused for losing his calm as early season defeat followed unacceptable defeat.
There was a sniff earlier last week that the Warriors strongly believe they had the ability to upset Melbourne but this was not a confidence shared by the TAB and most knowledgeable punters. Rugby league oracle Phil Gould put on record his belief the Warriors were a good chance to upset the Storm.
Gould's view was that Melbourne played a highly structured football and could be put off their game plan by the ad-lib style of the Aucklanders. So it proved. The young Warriors attacked with speed and defended with courage.
At halftime, with the Warriors ahead, a huge upset was looming. This was the Warriors of old and it took all the ability of the Storm's stars - Billy Slater, Cooper Kronk and Cameron Smith - to get their side over the line, albeit after receiving a terrible fright.
There has been a huge sigh of relief from Warriors' fans in the aftermath of a courageous defeat. But this has been marred again by yet another indifferent display of refereeing by match officials.
Two blatant forward passes by Melbourne and a woeful call on a Warriors' 40/20 kick made the hill that much harder to climb.
It's clear the refereeing structure and development requires an overhaul. It's just not on that clubs should have to put up with errors and the explanation "yes, it's our fault and we apologise". By then, the damage has been done.
The Warriors coming back into form is a plausible prospect based on Thursday's match. But they're going to need refereeing competency and fairness, and their fair share of 50-50 calls to climb from the bottom of the table to near the top.