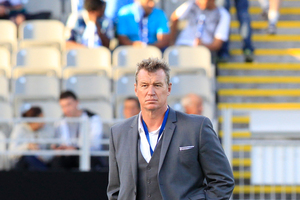 Finding solace in defeat has never been so easy for the Blues. They lost in Brisbane last night, yet, strangely, did more than enough to establish themselves as a genuine title contender.
That's because they did everything but win. Tactically, they were light years ahead of where they were the last time they played the Reds at Suncorp. Coach John Kirwan got it right - his plan was to run the Reds, coming off a brutal encounter with the Brumbies on only six days rest - the Blues racked up the phases. The possession stakes were frighteningly in their favour - their ball retention through as many as 20 phases was quite phenomenal.
They didn't always go as far forward as they wanted but through phases after phases of recycling, they achieved their goal of forcing the Reds into making an inordinate number of tackles.
Their performance at the breakdown was probably the best by any team in the competition so far. There was a 20-minute period in the second half where the Blues pulled off eight consecutive turnovers on Reds' possession.
The whole side was at it - Rene Ranger, Piri Weepu, Luke Braid, Steven Luatua and Peter Saili. A wobbly scrum was shored up to be effective and the Blues were in control of the game pretty much for 80 minutes.
But they didn't win. For all their possession, territory and dominance across the field - they made mistakes at critical times and handed Quade Cooper four penalty shots. They also couldn't convert all their pressure into points - a tribute to the defensive effort of the Reds but also more evidence that they made, at critical times, a few errors in execution and decision-making that derailed their momentum.
Those errors, that horrible feeling of having let the Reds off the hook will stay with them over the weekend. Yet the squad has no need to revel in pity. There is no reason for them to be overly discouraged by the loss.
The Reds are the leading side in the competition. The Blues are one of the youngest, an emerging force with more than half their team having barely or never played at this level before.
What they did in Brisbane was prove they can be competitive: they proved they can hold their own, more than, in all the critical areas. They are smart enough, slick enough, physical enough, skilled enough and fast enough to beat the best teams. What they have to do on the back of last night's result is believe all that and understand that if they deliver the same intensity of performance in coming weeks, retain their patience and focus for just that fraction longer, then they will win plenty of games.