Each week, Wendyl Nissen takes a packaged food item and decodes what the label tells you about its contents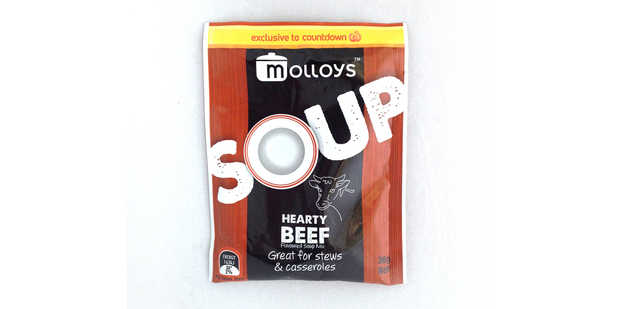 Molloys Soup Hearty Beef Flavoured Soup Mix - 99c for 36g or three serves
Molloys Soup relies on a series of additives to produce its hearty beef flavour, rather than any actual beef content.
When autumn arrives, the soup aisle of your supermarket suddenly starts to swell. Cold weather means a craving for warm soup and food producers are very keen to provide you with it as conveniently as possible.
Traditionally, soup is a nutritious thing made from boiling meat, bones, vegetables and sometimes grains together for many hours. Obviously in these modern times, not all of us have time to commit to soup-making, so something quick and easy to prepare is a must.
This soup joins the many packet varieties available and advertises itself as a hearty beef option complete with a picture of a cow on the front.

Ingredients (in order of greatest quantity first):
• Wheat flour - This is flour as you would use in baking. I think it is in this powdered mix as a thickener.
• Maltodextrin - This is a form of sugar.
• Flavours (contains soy, wheat and milk) - Usually flavours feature at the end of an ingredients list as you only need tiny amounts of artificial flavour to make something taste a certain way. The fact that it features third on this list tells as that there's a large percentage of artificial flavour in here.
• Maize starch - This is cornflour, in here most likely as a thickener.
• Salt - There is 624mg of sodium in one 200ml serve of this soup which is quite high and it tastes very salty.
• Vegetable shortening - [vegetable oil, glucose syrup solids, milk protein, emulsifiers (471,481,322), stabilisers (339,466), antioxidant (306)] (contains soy) Vegetable shortening as I understand it is hydrogenated vegetable oil, which means it has been treated to be solid at room temperature. This vegetable shortening has some other stuff added into it. The emulsifiers are mono and diglycerides of fatty acids (471), sodium lactylate (481) and lecithin (322). The stabilisers are sodium phosphates (339) and sodium carboxymethylcellulose (466) which is extracted from green plants and algae. The antioxidant is tocopherol which is vitamin E.
• Sugar - You'll get just 1.2g of sugar per 200ml serve.
• Onion powder - Nice to see some natural flavouring in here.
• Soy sauce powder (contains soy) - The soy sauce will also be providing flavour, but has been dried into powder form.
• Colours (150d, 150a) - These are caramel colours which aren't natural, they are made by reacting corn sugar with ammonia and sulphites for 150d. This colour is controversial as some believe a byproduct called 4-MEI is a carcinogen, however it is approved for use here. The other artificial colour 150a, however, is considered a bit better because no ammonia or sulphites are used in its production.
• Thickener (415) - This is xanthan gum which is fermented glucose and sucrose.
• Flavour enhancer (621) - This is MSG which is avoided by some people because they experience symptoms such as burning sensations, numbness, chest pain, headache, nausea and asthma.
• Parsley - In here as a flavour.
• Anti-caking agent (551) - This is silicon dioxide commonly known as silica and works in the powder to stop it clumping.
• Pepper

My recommendations
Top marks to those who have got this far and asked themselves the question, "but where is the beef?" That's right, there is no beef in this beef soup because as it quite rightly says on the packet it is beef "flavoured" soup. Which is why there are 24 ingredients in here to make you think you're sipping beef soup which came from the carcass of an animal. Instead there is MSG, artificial flavourings, emulsifiers and stabilisers in here to make sure that this cocktail does its job when combined with water to taste like beef soup.
At least when I reviewed Maggi Beef Stock powder they graciously included 1.5 per cent beef and some beef fat. When I made this soup up and tasted it all I could make out was salt and a hint of pepper.
It really is very easy to make soup and it can keep you going for days but if you want fast soup then you are better off taking a few steps to the right or left in the soup aisle and opting for a tinned or pouch soup.
The process of tinning or pouching preserves the soup so there is little need to add anything else except perhaps some beef and other natural ingredients.
Sure, it will cost a few dollars more but you are consuming some nutrition and real food with your soup instead of additives.
Read your labels and go for the soup with the most ingredients you recognise and the least which are represented by numbers.

Highlights
• Beef flavoured soup, featuring not an ounce of beef
• Uses MSG and artificial flavourings
• Added colour

Do you have a food product you would like Wendyl to feature? Email wendylwantstoknow@gmail.com with suggestions. Unfortunately Wendyl cannot correspond with readers.
Read Wendyl's columns on other food products.