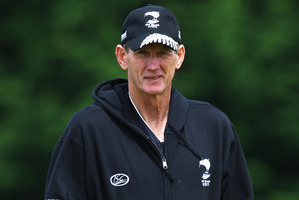 In the past sporting week the spotlight has been focused on using heroes as international sports competition hots up across a range of codes and traditional rivalries.
What has become more evident is the willingness of sport administrators, coaches and trainers to use every method at their disposal to motivate individuals and teams.
Rugby league is probably the most prolific user of sporting "greats" to rev up their players before big occasions, sometimes to their cost. On one notable occasion before the always emotional traditional Anzac Day fixture at the Sydney Cricket Ground, a Canterbury Bulldogs prop forward was so wound up when the opening whistle blew that he'd already been sent off for throwing a punch - and beat the "Last Post" bugler back to the sideline.
That type of thuggery has largely been eliminated from the game and more intelligent means of preparation have been employed through specialist psychologists and motivational staff.
This week we have seen the Kiwis preparing for their test against Australia in Canberra raise the bar with their call on Victoria Cross recipient Willie Apiata to join their camp to the obvious delight of the New Zealand players.
If injury hadn't intervened, the Kiwis would likely have been even more tooled up with heroes. Injured and unavailable on the sideline were Super Hero Sonny Bill Williams and (former captain) Benji Marshall providing as much motivation as they could without actually working their magic on the field.
But the Australians have never been short of motivation and inspiration for their sportsmen and women either. On this week's Channel 9 The Footy Show in Australia, the entire studio audience was made up of Australian service personnel. In the end, of course, a whole team of caped crusaders isn't going to be enough if the players aren't good enough to win.
Nowadays, teams and individuals are constantly seeking that winning edge - rarely to do with money or other personal incentives. Often it is never seen but when it is used cleverly it can be incredibly decisive.
What about Australian golfer Adam Scott's stunning victory at the Masters golf tournament in Augusta last weekend? It all came down to one difficult putt that Scott had to make. As they moved to the green, Kiwi caddy Steve Williams made a quick check of the lie of Scott's shot. It was obvious that, with all his experience and skill, Williams knew exactly how it was breaking and advised Scott that he needed to significantly change his line.
Scott sank the difficult putt and his bear hug of Williams showed how much he attributed that piece of brilliance to the Kiwi caddy. There's motivation, and then there's motivation mixed with pure darn skill. Give me that combination any day.
Which leads me to my point (I do have one). From the Kiwis' performance last night, they have reason to believe that, without catastrophic injuries, they have the ability to defend their World Cup title later this year.
Two words count - Wayne and Bennett. I believe he's the man who will move their chances forward in the same sort of scenario that worked for Adam Scott. The NZRL needs to get on the phone to the coaching great today.