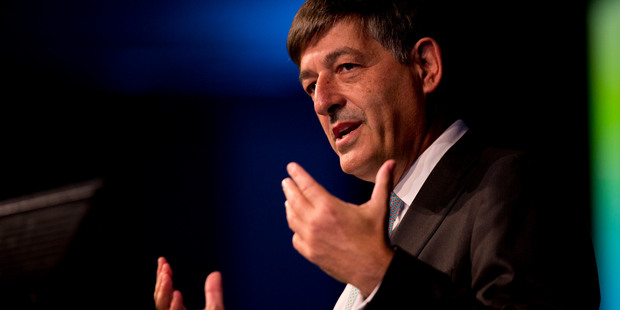 TECH BUBBLE AGAIN?
The success of Diligent and Xero appears to be spurring a raft of new technology companies to list on the stock exchange.
Yesterday SLI Systems - a Christchurch-based firm which provides search engine services to online retailers - revealed its plans for a $27 million initial public offering with a listing date set for early May.
That follows on from the listing of Derek Handley's Snakk Media last month.
Stock Takes hears there are also several other technology firms doing the rounds at the moment, talking to institutional investors and brokers.
One that was being talked about was a firm called Arria, which converts raw data into reports. It was due to go to market in April. Sources close to the deal say it is being delayed until June or July to avoid a clash with Mighty River Power.
But fund managers believe it may not happen now due to lack of support from domestic investors.
Some are comparing the number of potential tech listings to the late 90s, early 2000s Dotcom bubble, in which technology stocks in America soared and then spectacularly crashed.
Potential investors would do well to check out companies' underlying business models before jumping in head first.
MAY OVERLOAD
As SLI systems (couldn't they have come up with a better name) talks about coming to market in early May, that month looks like being a very busy one.
A listing date for SLI hasn't been announced yet but Stock Takes is betting it will probably be before May 10 when Mighty River Power is set down for its listing.
SLI will also have to take into account the reverse back-door listing of the Mad Butcher by Veritas Investments, which is due to completed by May 8.
It shouldn't be too hard for the scheduling to be worked out, given that investment bankers from Craigs Investment Partners are involved in both the Mad Butcher and SLI Systems deals and Craigs are also part of the retail selling syndicate for Mighty River Power.
The timing of the deals is bound to make for a large celebration at this year's INFINZ industry awards, also on May 8.
Stock Takes wonders whether the Government may also use the event, which typically attracts all the major players around town, to announce its plans for the next power company float.
PAY DAY
We won't find out exactly how much Craigs will get from doing the SLI deal until its prospectus comes out in the next few weeks but the Veritas prospectus reveals the firm will receive $95,250 for underwriting the Mad Butcher deal.
Interestingly, Collins Asset Management, the largest shareholder in Veritas, will also get $100,000 for sub-underwriting the deal and RMI Holdings receives $80,000 for its sub-underwriting role.
Collins Asset Management is a private equity company run by Tim Cook, who is a Veritas director, and RMI Holdings is the investment business of Philip Newland, who also sits on the board of Veritas.
It's also interesting to note the restrictions on who can sell out once the deal is done. Mad Butcher vendor Michael Morton, likely to come out of the deal with 44 per cent of Veritas, can't sell until after Veritas' financial results are announced for the June 30, 2014 financial year, probably about September 2014.
However, Collins Asset Management, which is likely to hold about 16.68 per cent after the deal, can sell its shares whenever it wants.
Shares in Veritas closed unchanged yesterday at $1.75.
MIGHTY RIVER GO
The offer period for Mighty River Power officially opened on Monday but there will be a three week wait until the Government can say exactly what the take-up of shares has been.
So far, the share sale hasn't appeared to have had much impact on its listed rivals this week. Contact Energy shares dipped 10c between Monday and Wednesday before regaining some ground. Yesterday, they closed down 26c at $5.46 after the Labour and Green parties unveiled plans to overhaul the electricity market and return to a centrally planned system.
TrustPower's shares had risen since last Friday as the company undertakes a share buy-back but yesterday they were down 24c at $7.56.
TWO CENTS
Vector chairman Michael Stiassny took the opportunity to complain about regulation at the Institute of Directors conference this week.
Stiassny reckons regulation is "getting out of control" in New Zealand and says Vector is spending more than 2c a share on regulation every year but a lot of it is wasted effort.
"We know a lot of information we send to the [Commerce] Commission is never read. When we try and get approval to buy an asset we wait for approval from the commission for too long."
He reckons companies overseas which are similar to Vector are doing really well, but regulation in New Zealand is holding Vector back and the situation is contrary to the Government's desire to see growth and innovation.
"We are spending so much time looking into the company. We are spending half our time looking at our backsides."
Stiassny said the regulator needed to find a balance between consumer pricing and corporate excess. Stock Takes is sure Chorus would echo Stiassny's sentiments.
Vector's shares closed down 7c yesterday at $2.88.
FUTURE DIRECTORS
The future directors scheme launched a few weeks back by the Shareholders' Association, Stephen Tindall and Michael Stiassny to attach up-and-coming young professionals to NZX boards has been very successful in attracting candidates, but less so getting companies on board.
More than 400 young people (well, between 35 and 45 years old) have put their hand up to be part of the scheme but Auckland Airport and The Warehouse are the only NZX-listed firms to take people on.
It's early yet and Stock Takes is hopeful it will catch on.