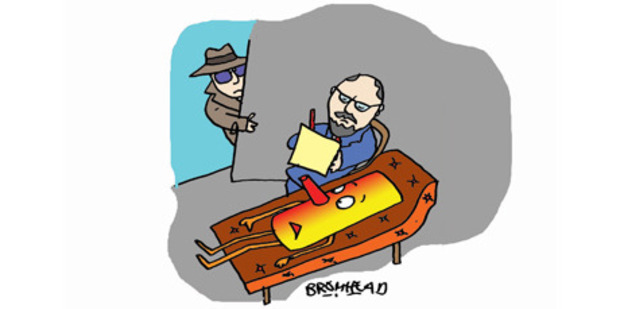 I enjoyed a small moment of triumph this week as I stuck a newspaper report under my therapist's nose.
"See!" I smugly uttered. "Here are the first inklings that a vast number of ordinary Kiwi citizens have not only been spied on by the GCSB but there's the possibility that personal files has been passed on to a foreign intelligence agency!"
"You have no proof of that," my headshrinker wearily replied.
"So, why has the GCSB refused to say whether data known as 'selectors of interest' has or has not been passed on to the sinister-sounding Five Eyes Intelligence Network?" I retorted, rising from the couch and furtively peering through the window to make sure I hadn't been followed on my weekly visit to the clinic.
Across the road, Mr Whippy was busy serving ice creams to children leaving school.
"See that ice-cream truck? How can we be certain that it's not bristling with electronic surveillance equipment recording our conversation?
"Our confidences are probably being analysed at the George Bush Center for Intelligence at the CIA Headquarters at Langley, thanks to satellite communication."
"I think it's highly unlikely that the GCSB, Mr Whippy or the CIA are the slightest bit interested in your clinical condition," my psychiatrist said patiently, waiting for me to settle down again.
"I'll just turn off my phone," I continued. "Spooks are able to use personal mobiles as listening devices.
"I suggest you do the same," I said, pointing at my shrink's iPhone.
Not wishing to alert Mr Whippy that I might be on to him, I wrote a note and passed it over to my therapist: "Have you carried out a thermal emissions spectrum analysis recently?"
My shrink shook his head, indicating no.
"It's the only way to check for eavesdropping devices," I whispered. "I have my cartoon studio and toilet swept regularly."
"Have they ever found anything?" my analyst asked curiously.
"No," I admitted. "But in view of the number of New Zealanders possibly being spied on, I think every citizen should purchase a spectrum analyser so one can personally check for electronic intrusions. You can pick up a decent one for about US$100,000."
"Don't you think you're being overly suspicious about the GCSB and their day-to-day operations?"
"Overly suspicious?" I protested. "Next you'll be accusing me next of being paranoid."