Perpetrators of Boston tragedy must be brought to justice, but not at the cost of more innocent lives.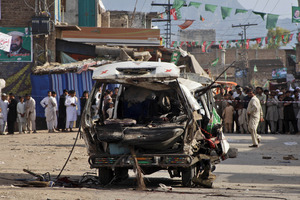 When that tragic bomb blast shook the vicinity of the Boston marathon finishing line, few people on this side of the world would have known about it immediately. I only heard of it while browsing at a bookstore in Dandenong, a suburb in southwest Melbourne that is famous for its large Indian, Sri Lankan, Afghan and other non-Anglo communities. Each community has a separate area in the Dandenong town centre where restaurants, food markets and clothing shops can be found.
As I picked up Salman Rushdie's memoir, the sounds of a popular music station Fox FM could be heard on the store's radio. Instead of the usual techno, two DJs were discussing at length a bomb blast. I listened closely and found out a bomb attack had claimed the lives of at least two people near the finishing line of the Boston tragedy. Among the victims was an 8-year-old boy.
The voices of these radio hosts weren't of the usual excited and chirpy mode.
Instead, they sounded sombre. It was only appropriate when discussing an event so extremely tragic. They spoke about the loss of loved ones, of the young boy who lost his life and of the American nation in mourning.
One announcer spoke of the possibility that this was a terrorist attack. She suggested this might only be the case if the attackers were from overseas. So how would we describe the attack if those responsible were Americans? I guess you can't expect political sophistication from everyone.
In Australia, there has been saturation coverage of the Boston tragedy. And with good reason. Many Australians study and work in the United States. It is perhaps our closest ally, a country with whom we share a cultural and linguistic affinity.
But one wonders what Afghan shoppers listening to the radio at this bookstore must have been thinking about all this focus on Boston's victims meant when similar tragedies happen in Afghanistan every week at the hands of not just terrorists but also coalition forces.
Afghans from the Hazara ethnic group have especially been targeted for ethnic and sectarian reasons in Pakistan. In recent days, bombings across Iraq have claimed the lives of more than 50 people and injured 300 in the lead-up to local elections on April 20.
This kind of thing happens in Iraq perhaps once a month. Apart from in the Shia Muslims of the southern marsh areas and some Kurdish cities and towns, this generally wasn't happening when Saddam Hussein was in power. But isn't Saddam's oppression of his own people one of the main reasons used by the Coalition of the Willing invaded Iraq in the first place?
If the Boston attack is indeed an example of international terrorism, one wonders whether a large number of anonymous innocents will die in the hunt for Boston's perpetrators. It seems that when the United States is a victim of terror, it cannot help but terrorise others. Within the first year of the invasion of Afghanistan in 2001, Coalition forces killed more Afghan civilians than were killed on 9/11.
The vast majority of victims of al-Qaeda, the Taleban and Saddam Hussein have been people belonging to faiths and cultures that Western cultural warriors love to associate with terrorism. It is hard to resist the conclusion that what we are again seeing is a situation where all terror victims are equal but some are more equal than others.
Still, talking about terror and terroristic reprisal may be premature. President Obama has mentioned this was a terrorist attack though he has refused to declare which group are the prime suspects.
It won't be easy for investigators to determine who was responsible. Pressure cookers stuffed with gun powder and nails are the weapons of choice for terrorists and criminal gangs across the Third World, from India to Central Africa.
We should hope and pray the perpetrators are found and brought to justice. However, we should also hope the Obama Administration doesn't use this incident to commit acts of terror on others. Perhaps the sign held up at a school peace rally by 8-year-old victim Marty Richard should be the guiding principal. "No more hurting people."


Irfan Yusuf is a Sydney lawyer.